The Hype
SEO Plan? How To Win Big on Holidays? What's the relation? Well, as it turns out, there is; a major one even!
According to Forbes, Sales during the 2020 "Big 5" weekend from Thanksgiving to Cyber Monday amounted to $39 billion.
As it turns out, shopping is the norm on holidays. Millions of shoppers race to get their hands on gifts for friends and loved ones on Black Friday, Cyber Monday, and throughout the Christmas shopping season.
These weekends play a significant role, let it be for retailers; eCommerce owners, or customers.
If you're an eCommerce owner, you gotta be ready as chances are unless you sell a niche product, you aren't the only one selling it.
So, what now? How will you stand out? or better,
How will you stand on top?
A lucrative holiday SEO Plan is one way for eCommerce business owners and marketers to shine. And if you're looking for a way to shine, you've come to the right place!
Table of Contents
Focusing on seasonal optimization is a great way to increase your traffic and conversions. It also helps you rank better in terms of SERPs as Search Engines gives priority to up-to-date content.
So let's get started!
Step-1 – Optimize Your Site's Speed
According to Google, The probability of your site visitor bouncing increases to 123% as your page load time goes from 1 second to 10 seconds.
That's not a good view. Bounce rates are increased when pages take a long time to load, graphics are missing or are too large, forms are glitchy, and navigation is confusing.
These metrics, even for ranking, play a significant role. They're big red flags for Google.
Even with a robust digital marketing strategy, you'll be ranked lower than your competitors. If you own an eCommerce, it has to load fast and function smoothly.
Here are a few things to keep in mind while optimizing your site performance –
Website load speed on desktop and mobile
Broken/404 error links
Mobile-friendly website
Improper website indexing
Repetitive and outdated pages
Improper and duplicate pages
Abandoned pages
Unsecured pages – No SSL certificate
Read our blog – 13 Guaranteed Ways to Speed up WordPress Website
Step-2 – Learn From The Past
"Study the past if you would define the future" – Confucius
Confucius was right, in this case, to foresee where your traffic will come from in the new year, you've to study your last year's traffic reports.
Consider the chart below as an example.
Google Search Console comes in handy for that matter. It will get you important insights such as –
Which pages drew the most attention last year?
Which keywords did customers use to find your items and deals?
After getting this useful information, it's time to analyze it.
Google Analytics is probably the best and most ought to tool for that. Analytics help you go deeper into your insights –
Top referral sources – Social Media, email, affiliate campaigns, etc.
Channels that bought you the most conversion.
Although Google Search Console and Google Analytics are quite beneficial, they're a little much to take for a beginner.
That's because they provide an array of information that might feel overwhelming sometimes. Take some time to study different reports and analytics and you'll be good to go for the holiday shopping frenzy.
Treasure Tips for Google Search Console
Google Search Console is designed to give you technical information about your website. In other words, this tool shows how search crawlers perceive and interact with your website to establish its worth to users.
Here are a few Google Search Console Features that might come in handy to you –
Performance: Google Search Console allows you to choose a custom timeline and compare total clicks, impressions, click-through rates, and more.
Average Position: This tells you what the average ranking of a specific keyword or page was within the time span you've chosen. Of course, this isn't always precise, since more and more things happen to get varied search results.
Google appears to be getting better at determining which results are best suited to which visitor. However, it still gives you a sense of whether the clicks, impressions, and average CTR are explainable.
URL Inspection: The URL Inspection tab in Google Search Console allows you to examine the performance of particular pages.
Index Coverage: You'll find a list of all the pages on your site, as well as their current condition in terms of if they're valid, valid with warnings, errors, or excluded in the coverage section.
This is particularly useful for quickly identifying broken pages, as well as which of your pages your robots.txt file blocks or marks as "no-index."
Treasure Tips for Google Analytics
Google Analytics gives in-depth information about your site in real-time. These insights include the amount of traffic, their demographic, and behavior on your site.
Google Analytics also lets you see through the conversion rate as well as individual page performance and much more. Read our blog
Here are a few Google Analytics features that might come in handy to you –
Analyzing the Reverse Goal Path report to see which content drew the most website traffic and resulted in the most conversions.
integrating Google Analytics with Google and Non-Google products, a few examples:
Preparing a set of custom URLs(UTM) for paid ads and referral marketing campaigns to aid in tracking on-site client activity after they arrive on your site.
Analyze data from the previous year's conversion funnels and/or create new ones for this year's holiday SEO Plan.
Google Analytics also offers an eCommerce-specific module.
Step-3 – Identify The Right Holiday Keywords
SEO is all about connecting with your target audience. One way to do this is by targeting the right keywords.
Keywords research is a simple yet sensitive process.
Going for extremely competitive keywords that every other online store is going after means you'll have a low likelihood of success.
Targeting irrelevant keywords or those with no intention of making a purchase or conducting product research is a waste of money.
Therefore, you've to come up with a middle ground where the competition and relevancy are stable.
To design your holiday keyword strategy, start with last year's data.
Did you notice any distinctive keywords that customers used to discover you? Check out Google Search Console's report from last year. For more suggestions, copy & paste some of those keywords into Google Keyword Planner.
For the time being, disregard PPC data such as bid cost and instead concentrate on seasonal keyword volumes.
To uncover hot keywords for the Christmas season, segment keyword ideas by month. The catch is that GKP does not provide actual search volumes (just a range), and their competition score is for paid search results rather than organic results.
This tactic could give you an idea of the keyword but for more precise data on the keyword, you should opt for tools such as –
All of them allow you to examine the precise monthly search traffic for a keyword, give more "related keywords" auto-suggestions, and review which domains presently rank for your target keyword and the keyword difficulty.
Additionally, they also provide extensions that could come in handy for your site's on-the-go optimization.
Step-4 – Create Occasion Specific Landing Pages
It is critical to establish sites that target relevant keywords to enhance your chances of appearing on Black Friday and Cyber Monday-related search queries.
Users will frequently search for phrase combinations that include your brand's name or product with deals, discounts, promos to get the cheapest pricing available.
Using Google Trends' historical findings, you may determine which options are trending in your product category.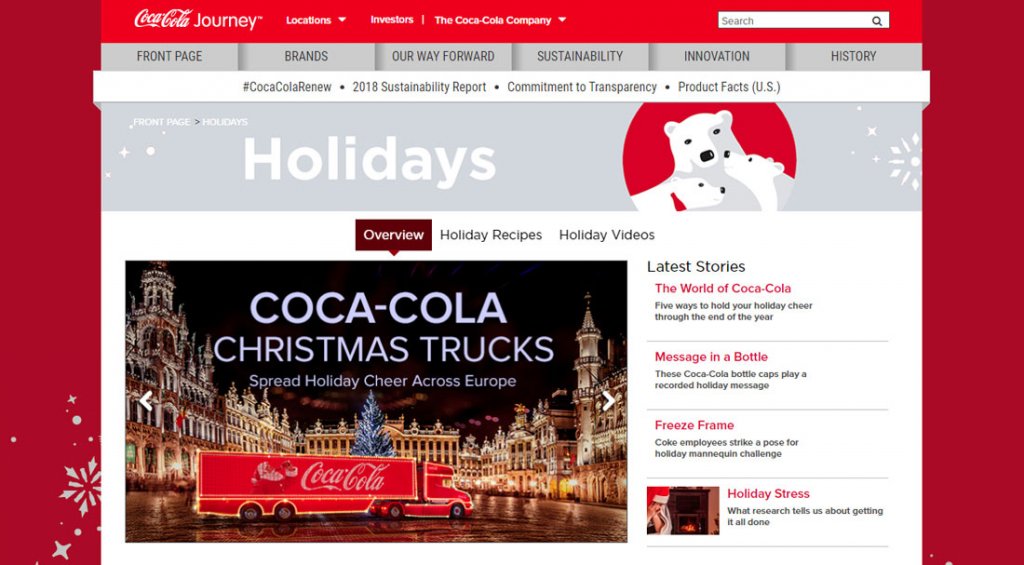 Using this strategy may help you get a competitive edge and help you stand out from your competition. Although, a smart eCommerce business owner would have an alternate strategy as well.
Create the pages in advance, then use a 302 redirect (a temporary redirect rather than a permanent 301 redirect) to keep them hidden until its holiday season. This will give you plenty of time to optimize your pages for holiday customers, as well as allow website crawlers to scan your site.
You could even draft a total holiday-themed site that visitors won't see until it's time to start gearing up for the Christmas season.
After you've created the pages, you'll need to include them in your XML sitemap and navigation. The purpose of these new landing pages is to increase traffic from search queries including holiday-related keywords
Though, if returning consumers want to see your holiday discounts, you should still provide an option for them to reach the new pages.
A sitemap is an excellent way to better index your pages. As the name implies, a sitemap gives crawlers an idea of your whole site.
By adding new pages to your sitemap, you're establishing a path for crawlers to follow so they can rapidly identify and index your pages.
Step-5 – Align Your Marketing Strategy With SEO Plan
What's a marketing strategy without it being in sync with everything.
Users benefit from a unified experience that shows them exactly what they are looking for. Thinking from the top to the bottom of the funnel is the most effective way to accomplish this.
Increase brand and product recognition by using social media. To convert buyers in the middle of their customer journeys, use paid search in addition to your SEO Plan.
All of your efforts should be thoroughly measured to determine which channels are the most effective and which channels need attention.
Let's dig a little deeper into a couple of channels to better understand this concept –
#1. Social Media for driving more traffic
According to DataReportal, there are around 4.48 billion social media users around the world in July 2021, equating to almost 57 percent of the total global population.
Numbers are only increasing. Leveraging social media's influence to your advantage to drive more traffic to your site is a no-brainer.
As with SEO and paid search, you should start planning your holiday social media strategy well in advance.
First of all, you should decide when to begin and end your social campaign, as well as which channels to use.
Following that, you should begin researching the trends and strategies your competitors are using. That said, now it's time to implement your strategy.
Facebook & Instagram offers many features to promote your brand and showcase your products, including the use of product tags and an in-app browser for customers to promptly view and shop your catalog without leaving the app.
#2. Paid Search on Holidays
Despite the fact that "Big 5" are only five days a year, it is critical to combine your paid search efforts with your SEO plan.
Your paid search campaign strategy, like your SEO plan, should be based on a combination of historical ad performance data and new keyword discoveries.
Aside from that, here are a few things to keep in mind when strategizing a holiday PPC campaign:
ad bidding can be tough on your budgets. Be cautious when selecting target keywords for search ads.
Match your campaign objectives to the correct stage of the funnel for paid social media advertising.
Run paid promo campaigns before the big days when the competition is comparatively lower.
Set Some ad money aside for experimenting with ads.
#3. Measure, Analyse, Optimize
Let's say you're fully prepared for the Holiday season with your site optimized for performance, keywords all set, seasonal content up & live, and paid promotions in sync. But how do you know if all of these efforts have paid off?
How do you know if something's wrong or needs improvement?
As we learned about Google Analytics and Google Search Console earlier, both have a number of reports that might assist you to figure out just that.
These reports could help you analyze various metrics such as your site's traffic by total visitors, click-through rate, and much more.
That said, with the spot-on analyses, you can now optimize your strategy accordingly.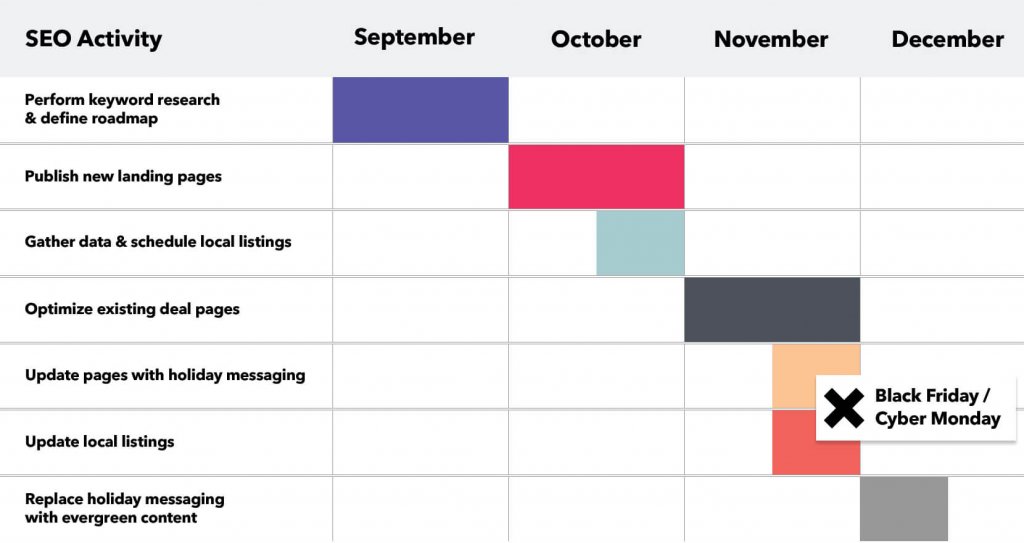 Finally, Good-By
SEO is a golden egg for eCommerce websites, especially small businesses. Let's be real, it's not rocket science.
With a little bit of hard work & smart work, you can design the most successful holiday campaign you've had.
Prioritize keyword research to improve your chances of ranking at the top of the SERPs.
Acquire your targeted audience with content that is inspiring, instructive, and engaging, allowing them to make the best possible choices.
Create Holiday landing pages in advance and optimize them with a unique combination of keywords, historical trends, and the latest trends.
Keep your SEO plan in sync with other marketing tactics, and you'll SLAY over the holiday season this year.
Happy Holidays!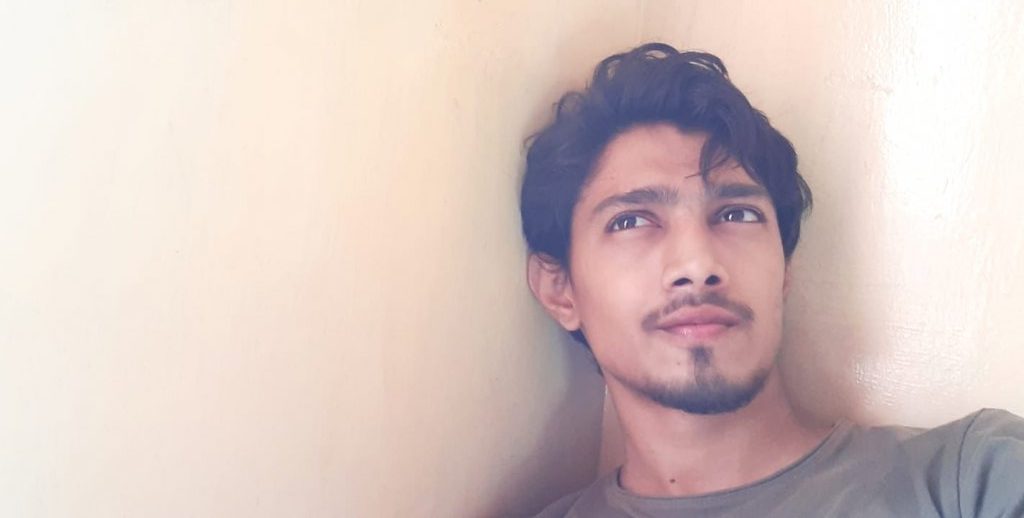 Foorqan is a Digital Marketing enthusiast who likes to play with current Digital Marketing techniques and try new Marketing tactics. When he's not following his passions, He follows his hobbies which are reading, traveling, and writing.