Two words- customizable products, and your customers will come hurtling towards your store, eager to create something of their own. If you give your shoppers the ability to personalize their purchases, you're likely to double your sales.
Any customer would be happy to fashion items that they use on a daily basis (t-shirts, mugs, cards, bags, etc) according to their taste and mood. A marvel fan won't mind paying a few extra bucks to write a famous Iron Man quote of his/her choice on a t-shirt!
Choosing the right kind of Magento product designer extension for your store will help you offer a great design studio to your shoppers where they can personalize products with ease.
So before we proceed to listing the extensions, lets's look at all the factors you need to take into account before choosing a product designer tool for your store. If you want, you can skip straight to the extension list.
Table of Content:
9 Best Magento Product Designer Extension

Brush Your Ideas
MageTop
SetuBridge
Zakeke
Milople
Aitoc
Cmsmart
GoMage
Designnbuy
How to Choose Magento Product Designer Extension
Following are the factors you must keep in mind:
1. Multi-product
Simply offering to sell custom t-shirts isn't going to guarantee more sales. You should always aim to sell a variety of products (t-shirts, caps, mugs, bags, cards, flyers, etc) , so that customers have more choices.
2. Open Source Code
Free access to the code will mean your developers can tweak the extension and add or remove the functionalities as you please. No pre-made designer tool is going to fit into your needs perfectly, so it's always better to be able to change things around if you want to.
3. Responsiveness
Your extension should be responsive across all devices. Most customers use mobile phones when making online purchases. It's essential for them to be able to design product from their phone, for ease of use.
4. Design Elements
Make sure that the extension you choose has all the basis design elements (text, fonts, clip-art, images). Apart from that there are other factors to be considered too, such as:
Variety and design of fonts, clip-arts, templates being offered.
How many design areas are allowed on the product.
The number of design effects (shadow effect, text outline, etc) being offered.
Whether or not the customer can upload images, templates, fonts, etc.
5. Admin Control
A store owner should be able to:
Approve/disapprove designs
Apply custom pricing
Set and manage design areas, design elements, and more.
6. Lightweight
There's no point in purchasing an extension that slows your store down. Ensure that the extension you purchase is lightweight with a clean code.
9 Best Magento Product Designer Extensions
This list contains product designer tools that are compatible with all Magento 1 and/or Magento 2. The pricing for each tool has also been mentioned.

1.Brush Your Ideas
Brush your ideas by Biztech offers a slew of powerful product design features. Built on HTML 5, this extension is responsive across all devices, with multilingual support.

You can add background images, clipart, text, play with fonts, and even upload your own images. Customers can design various products like T-shirts, aprons, mugs, calendars, wallpapers, cards, mobile skins, flyers, and much more!

It offers dynamic pricing, that you can configure in the backend, based on your requirements. Prices will be updated in real-time as your customers make more customizations.

Some other features include:

Image resolution warning: Customers will be notified if they are exceeding the maximum image resolution.
Color management for printing: In case your computer can't print certain colors, the tool restricts customers from adding that color to their design.
Image editor: Apart from uploading their own images, your customers can edit their images by brightening them, using filters, etc.
Reuse designs: Customers can save whatever design they've created, and reuse it whenever they want.
Masking on products: You can restrict certain areas of products where customers will not be able to make customizations.
Compatibility: Magento 2
Price: Starts at $1499
2. MageTop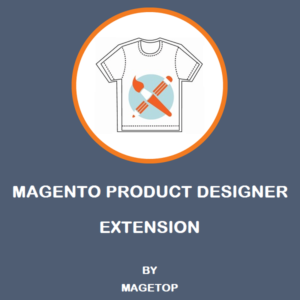 Chock-full of impressive features, MageTop's product designer extension seems to have everything a store owner might need in order to provide a one-stop service to their customers.

Broadly speaking, it has a user-friendly design studio, supports all kinds of printing methods, contains a library of clipart and pre-made templates, and works for all products that are printable.

It has integrated payment gateways and supports multiple languages and currencies.

Features:

For store owners:

Domain license for a lifetime: It includes a lifetime key with free upgrades and no expiry date.
Free support: Installation is free and you can get free assistance with any bug or other problems.
Money-back guarantee: You can sample the extension for 30 days and request a return if it doesn't meet your expectations.
Dashboard: Through this, you can add, delete or edit any fonts, images, clip art that you're offering to customers.
Built on HTML/Javascript: It is clean coded in javascript and CSS/HTML with bootstrap, and its code is also verified on the Magento Marketplace.
Customizability: The source code can be edited and modified to add additional functionality or change existing ones.
Additional plugins and add-ons: Like curved text plugin, and QR code plugin, integrated payment gateways.
Design features for customers:

Upload graphics: You can upload images, vectors, fonts, etc.
Multiple file formats: High resolutions formats are supported output images like PNG, SVG, JPG. Customers can also upload vector files in AI, PSD, EPS formats, and they will automatically be converted into PDF.
Design features: Customers can upload and crop photos, overlay images in a multi-design area, save and share customized designs and templates.
There is background pattern, mask layer, and design templates management.
Compatibility: Magento 2 and onwards
Price: $299 for standard and $599 for premium.
3. SetuBridge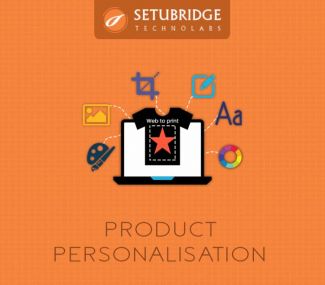 This product designer extension by SetuBridge aims at providing a user-friendly designer studio for customers. It has an Angular and HTML5 based editor and claims to offer a lightweight solution so that there's no effect on a Magento website's performance.

It also includes all the basic functionalities. Users can upload images, texts, fonts, etc. They can design products like t-shirts, mugs, mobile covers, cards, pillowcases, etc.

You get a 3 month free support in the package, and money back in 14 days if you're not satisfied with the product. However, the installation takes extra charges.

Features:

Quote management: Customers can add codes to their designs.
Custom fonts and texts: customers can upload custom fonts. They can add effects to their text like shadow effect, curve text, etc.
Design on multiple sides: Customers can design the front and back of products like t-shirts or cards.
Ruler tools: These tools will help pick printable areas of different products to aid customers with design.
Custom pricing: Different pricing can be set for each element, like clipart, template, images, text, quotes, etc.
Design preview: the admin can preview customer designs and download them in printable SVG format.
Compatibility: Magento 2.x onwards- community edition.
Price: Starts are $390, valid for a year.
4. Zakeke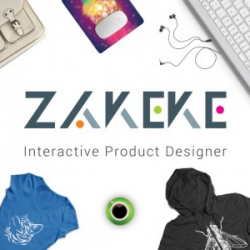 Zakeke' offers an interactive designer extension where the customers can get the 3D preview of their customized item. The stand-out point of Zakeke is that it provides all the required functionalities at a fairly cheap price.

There are regular updates for bug fixing and other improvements in this extension as well.
Features:

Apart from basic features like availability of different product categories, design elements, editing options, Zakeke offers:

Cloud service: to ensure that the extension doesn't weigh down on your Magento store and gives a good performance.
Social integration: customers can import images from their social media handles like Facebook and Instagram.
Print-ready outputs: Zakeke supports high-resolution file formats like PDF, PNG, SVG, AutoCard DXF formats.
Free resources: there are documents and video tutorials available to understand how the platform works.
Flexible price management: store owners can set custom prices based on innumerable criteria like a number of colors, printing method, product quantity, personalization areas, etc.
Design: image filters, editing tools, pre-made designs, etc. It also shows a 3D preview of the designs customers create.
Compatibility: Magento 1.
Pricing: Basic plan at $5.24, and the highest plan at $149.99
Interesting read: 27 Magento 2 Free Extensions: An Ultimate List
5. Milople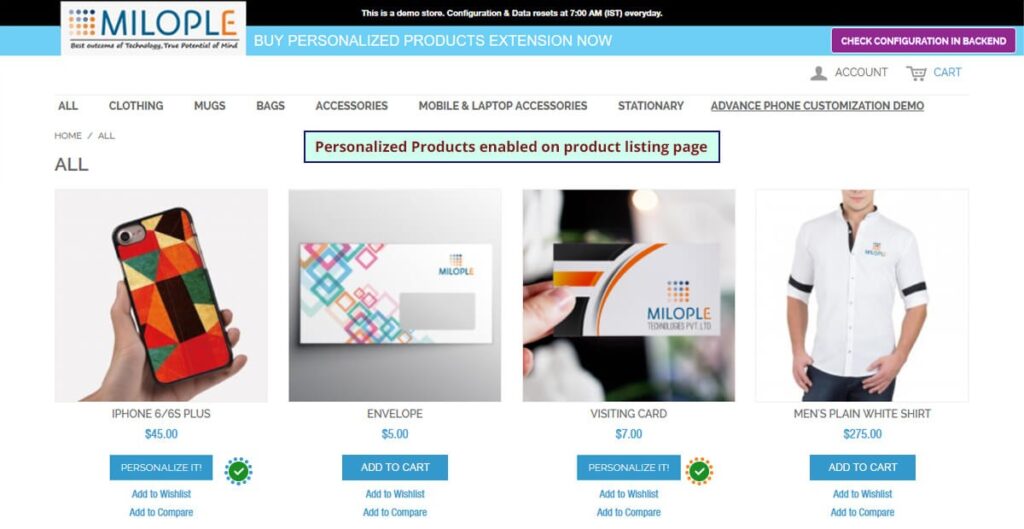 Miliopile's Magento product designer extension intends to give full control to the admin or store owner who purchases the extension.

Features:
Robust design features for customers:

Customers can reposition, align, flip, and rotate design elements.
They can design multiple sides of a product.
Choose from multiple colors, clip-arts, fonts, etc.
They can add their own images

Customize the extension: Admins can enable and disable the fonts, clip-arts, images, colors, templates, etc the customers have at their disposal.
Define numbers of elements: Admin can set the numbers of characters, clip-arts, images that can be added on a particular product.
Personalization area setting: store owners can set the area that can be customized on various products. Elements will automatically resize to fit in the designated area.
Admin will be able to see the customizations done to the product in order of which it was done.
Compatibility: Both Magento 1 and Magento 2
Pricing: starts at $102
6. Aitoc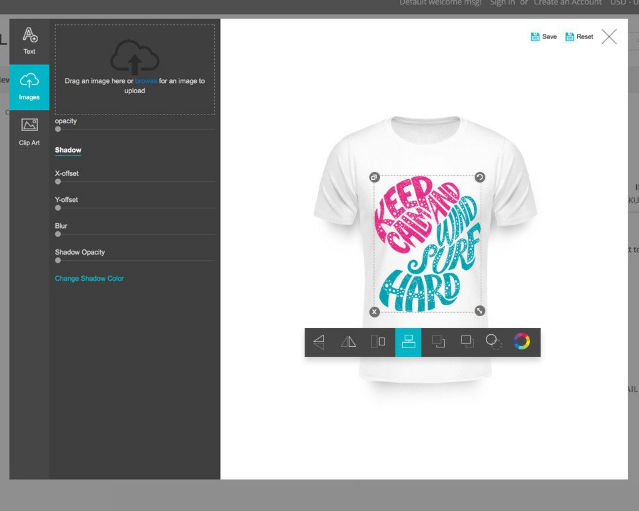 If compared to its competitors, Aitoc's product designer seems to do better when it comes to design elements. In addition to the option of uploading images and adding effects to it, you can do a lot with the text as well.

There are options to add shadow, edit opacity, outline the text, and more. It also claims to be a lightweight tool, occupying less than 500 KB of space.

This tool is for anyone looking for advanced designing elements.
Features:
Custom images and a much better variety of clip-art available.
Multiple design areas (front, back, left and right)
Custom pricing
Store owners can disable purchase of non-customized items
Set maximum text lengths.
Print-ready files in SVG format
Social media integration: Customers can import images from Instagram and Pinterest accounts. There will be social share buttons for popular social networks.
Compatibility: Magento 2
Price: Starts at $289
7. Cmsmart

NBdesigner by cmsmart is an easy to install extension that comes with pre-built templates. The designs that can be made on this tool are relatively simple, so it's best for those businesses who want to offer customized products on the side or don't require advanced designing features.

Customers can design mugs, t-shirts, labels, catalog, CD covers, door hangers, postcards, posters, and much more.

Features:
Design: Apart from basic design features customers can make freehand drawings, design in layers, upload a design, and share on social media. There's a free stock of images, templates, and elements as well.
Design management from backend: Admin can manage anything from images to colors to text from the backend. She can also reject designs that don't meet the guidelines or would be difficult to print.
Custom pricing: you can enable print pricing from the backend.
Mobile friendly: customers can design using any device.
Add QR Code: You can add, customize, and design a QR code.
You can also save customer's designs in their account.
Store owners can set a thumbnail for design image
Compatibility: Magento 1.9.x and Magento 2.0 onwards.
Price: Starts at $249.68
8. GoMage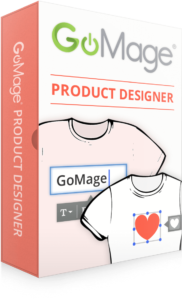 GoMage's product designer tool is built on HTML5 and CSS3. The developer key comes free so you can customize the extensions itself from the backend.

It offers a limited range of customizable products compared to its competitors. You can personalize hats, t-shirts, mugs, phone covers, and bags.

Features:
Text effects: Users can upload text, and add effects like outline and shadow.
Custom pricing
Save designs for reordering
Mobile friendly and fully responsive
Output file types include PDF, PNG and JPG.
Open source code so the extension can easily be customized.
Easy installation using FTP.
Compatibility: Magento 1
Pricing: 699 euros

9. Designnbuy
Designnbuy by printcommerce offers advance designing functionality as customers can add check image quality, filter images, add text shapes, use image masks, and design templates.

Store owners themselves can design templates and add them for customers could use.

Features:
2D and 3D preview.
Customers can change product in the middle of a design
All the basic designing features
They offer video tutorials and live training for the extension.
Define which products can be personalized and configure the design areas.
You can download ready to print vector output files in CMYK and PDF.
Compatibility: Magento 2
Price: $120/month
Conclusion
I've tried to include all the latest Magento product designer extension I could find. If you have any suggestions, do mention in the comments below!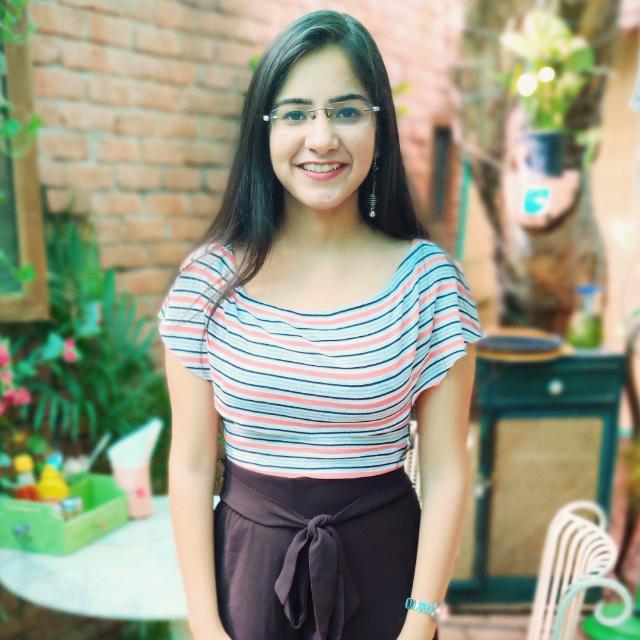 Divya loves writing and is passionate about marketing. When not trying to hone her skills, you'll find her either reading or binging on TV shows.