Meet Magento conferences see the confluence of Magento enthusiasts from different parts of the world. Every year, the Magento community meets and talks about the evolution of Magento and its future prospects.

This year was no different. Held at The Leela, Mumbai on February 1st, 2020, Meet Magento conference India was nothing short of spectacular.

MageHost was one of the sponsors for MM20IN and we had been looking forward to the event for a while now. We took a lot of steps to make the most out of the conference. Let's dig in….
Table of Content:
Why MageHost Attended Meet Magento '20IN

It's a no brainer that if you want to be an active part of your niche industry and make contributions, you have to attend industry conferences. We attended Meet Magento because:

Networking
Meeting Magento developers, eCommerce consultants, Adobe professionals, merchants, Magento partners, etc and making new contacts was something we were looking forward to. We wanted to mingle with people in our niche and discuss everything Magento and eCommerce related!

To make a contribution
You can't be an active member of a community without doing something to contribute. We had a lot of interesting things planned for the attendees, which we'll be talking about later in this article.
Great Opportunity to Learn
Meet Magento always features knowledgeable talks from industry experts. This year, topics ranged from Magento PWA, AMP For Emails in eCommerce, Magento and API's, B2B Trends and Silent Commerce, to many more.
Looking at the agenda, we knew we'd get to hear industry veterans and influencers share their experience. The best part is, there are a lot of little tips and tactics you can take away from these talks to improve business operations.
To Announce our Rebranding!



We started purely as a Magento hosting company. Our dedication to hosting has enabled us to scale up and expand our horizons. We're now providing hosting for other eCommerce platforms as well- WooCommerce, OpenCart, and Shopware.
What better place to announce this next chapter in our journey than a Meet Magento conference!

MageHost's Role in The Conference 

1. Cool Giveaways

We know how important getting your hands on good SWAG is, in any conference. We wanted to come up with something people in the Magento community could relate with and want to use!

We came up with these custom stickers: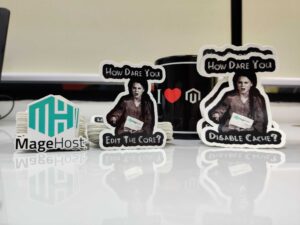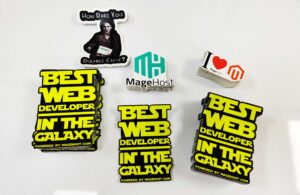 2. Free credits worth 1.25 Lakhs


We wanted to use the opportunity to get a better insight into the pain points of Magento merchants and agencies when it comes to hosting.

We conducted a lucky draw in which we asked the attendees to:

Write the most common hosting related problem they face at the back of their business card.
Drop the card at our booth.
We randomly picked up the card and announced a winner.

3. We delivered a talk!


Our CEO Mr. Sahil Chugh delivered a talk on the topic 'Merchant's guide to protecting Magento Storefronts'.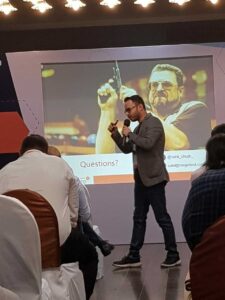 Why We Spoke on Security
Security is a primary concern in the eCommerce industry. eCommerce websites contain valuable and sensitive customer data, which should never fall into the wrong hands. Stats suggest that 40% of Magento stores are at risk or have been compromised due to weak security.

Mr. Chugh wanted to stress this fact, and share advice on how Magento stores can amp up their security, which is why he went for this topic.

He started by revealing these shocking facts:

Around 30-200 stores get hacked every day
20% of Merchants get reinfected after a breach
He went on to discuss in detail about-

Common Magento Malware
Repercussions of a compromised website
The reason for security breaches
How merchants and developers alike can fix and prevent security issues.
Some of the key takeaways:
Do not use bad extensions
Go for a Managed Magento hosting provider
Enable 2FA
Apply Magento security patches
Run regular scans
Strong passwords that should be changed regularly
Get PCI Compliance
Take a look at the published slides here: Merchant's guide to protecting Magento storefronts
Things We Do for Security
1.Complete DDoS Mitigation
A Distributed Denial of Service attack can be lethal and lead to significant downtime if you don't take proper measures of prevention.

Firstly, we use the following essential components to help reduce the impact of a DDoS attack.

Cloudflare CDN
Unlimited Bandwidth
Web-based and server-based firewalls
Cloud computing
Secondly, we always have a response team ready, that works towards identifying DDoS attacks and follows the pre-defined protocols to mitigate the impact.

We also regularly monitor website traffic trends, and are always prepared for DDoS attacks, especially during the holiday season.
2. Regular security patching to combat vulnerabilities
Magento is vulnerable to a lot of attacks, like SQL injection, Cross-Site Request Forgery, Remote Code Execution, and more.

Their team keeps rolling out security patches to protect the platform from these attacks and we promptly install those as soon as they are released.
3. IP Whitelisting and restricting access
During the development stage of your website, there is a greater risk of attacks and information leaks. We use IP Whitelisting, 2FA, and .htaccess password protection to make sure only authorized persons are able to access your website.
4. Web Application Firewall
Web Application Firewall detects and blocks malicious traffic before it can even reach a server. They also virtually install Magento security patches when you're manually unable to do so.

We know that having a WAF adds a strong layer of protection to a server, which is why we have it on our security features.
5. Regular Virus scans
No server is completely immune to Malware and virus threats. We scan our servers regularly and ensure that their health is always maintained.

6. SFTP
We offer Secure File Transfer Protocol for the safe transfer of your website data on our servers. SFTP encrypts the data that is being transferred, eliminating the risk of it being intercepted and stolen by a third party.

7.Network Monitoring
Monitoring plays a big role in security. We're constantly keeping an eye on our servers to see the virus, attacks, downtime, technology stack, speed and more.

8. Daily Backups
We give free daily backups with a 7 day retention period. Even if your data is lost or the website is damaged, backups make it easier to restore it back to its last known configuration. This considerably reduces the loss of website data during an attack.
Meet Magento India 2020- Highlights
The event was kicked off by the organizers from Wagento India, Mr. Vijay Golani, and Brent W. Peterson.

They gave a warm welcome to everyone, thanking their guests for being so involved in the Magento community.

Next, we attended the keynote address by Cheliyan Pancras. He talked about:

Upcoming AI-powered site search by Adobe
Integration of Magento and Adobe ever since its takeover.
Vinai Kopp, a Magento developer spoke on 'Property-based testing in PHP'. He discussed:

Where and why property-based testing was invented
The difference between property-based testing and example-based testing.
Figuring out what properties to test
When to use property-based testing
How to build a property based test
Next, we heard Mr. Kali Charan Rajput speak on 'Design Thinking: The Secret To Succeed in eCommerce'.

Design thinking is a very intriguing concept, and Mr. Rajput stressed on how to use empathy and an emotional connection with site visitors to turn them into customers.

He are some of the golden nuggets he shared :

"Customer experience is the new competitive battlefield"

"Let your design speak for you"

"We must design for the way people behave, not for how we would wish them to behave."

And we couldn't agree more!
Not to forget, the yummy breakfast and lunch sponsored by Codilar and Netsmartz respectively.

The rest of the day, we spent on our booth, talking to people and exchanging conversations.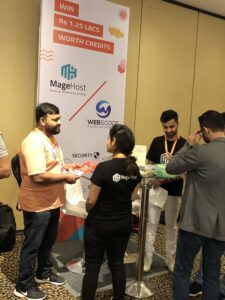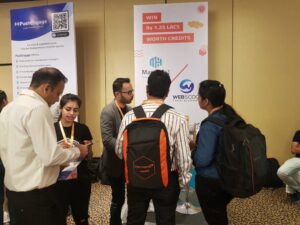 We met the wonderful team of Meetanshi: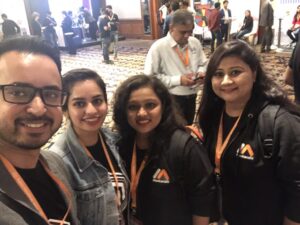 Also, we were humbled by the response our lucky draw received!
Lastly, our team had a blast!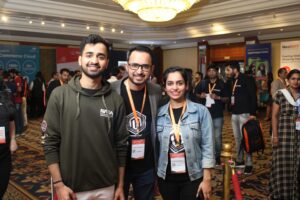 It was great socializing with people who are as devoted to eCommerce hosting as we are. We got to share our passion for Magento and eCommerce hosting with the community. Meet Magento was a day of interesting conversations, building new connections, and most importantly, getting inspired to constantly grow and give back to the community!

We are glad to have been part of such an amazing event and promise to come back with more enthusiasm and better contributions next year.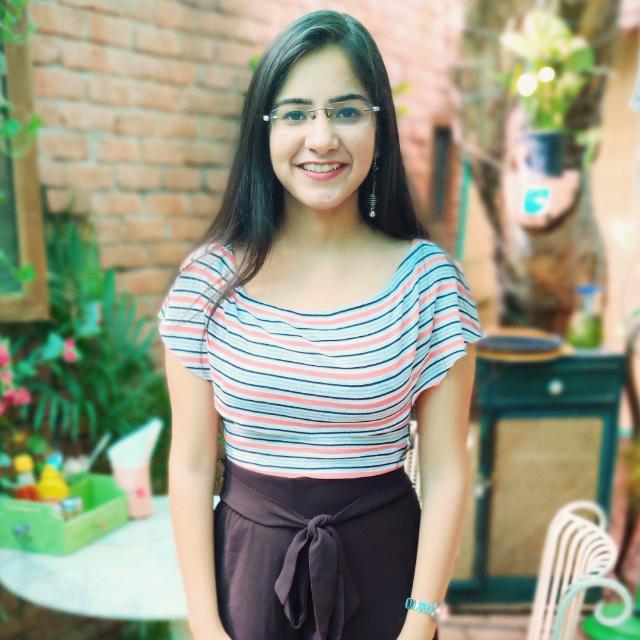 Divya loves writing and is passionate about marketing. When not trying to hone her skills, you'll find her either reading or binging on TV shows.