Being a website owner is not an easy task. You have to spend time, resources, and make some significant decisions. Before we dive into what is managed hosting, question yourself: What do you expect from your website?
Is it just a side hobby? Or are you going to make money out of it? Is it going to sell products? Or do you just want an online presence?
After deciding it, the next big question is Managed hosting vs unmanaged hosting for your website?
Let's understand what is Managed Hosting, when should you go for it & what are the pros and cons?
I'll explain the differences between managed and unmanaged hosting in this article, as well as what each of these terminologies implies to you as a user.
Let's begin!
Table of Contents
1. What is Managed Hosting?
First things first – If your eCommerce site lags, you're out of the business!
A good host will relieve you of a lot of hosting stress, whereas a bad host — or even a bad hosting package option — can wreak havoc on your website.
What is included in a typical hosting package?
Server Hardware
OS
Softwares for running websites
Control Panel
However, along with these, the best-managed host also provides:
Automated Backups
Malware Detection & Cleanup
Proactive Monitoring
Security Patches
Guaranteed Uptime
24*7 Engineer Support
The term "managed" refers to these additional management functions. Most of the eCommerce owners are now opting for Managed hosting due to the time crunch and stress-free hosting it comes with.
You don't need any technical knowledge.
Saves you time & money (since the problems are solved expert engineers & no money is wasted on hit & trial).
You have the time & resources to focus on the main revenue generating aspects like Marketing & Sales.
From our experience, our eCommerce clients have:
Increased their sales by 56% after moving to managed services.
Reduced cost by 25% and improved their website speed. So much so that their sales improved dramatically in the first 3 days itself.
What is Unmanaged Hosting?
Unmanaged hosting is the most basic type of web hosting, and it's the most popular among small enterprises and individuals.
You rent server hosting space and upload your website there.
You are responsible for installing software, developing a website, maintaining your website up to date, and correcting security flaws. As the name implies, you're on your own.
The term 'unmanaged' refers to the fact that the hosting business does not provide any services or perform any management tasks on your server.
Unmanaged hosting is suitable for those businesses that have time and resources to invest. If you've technical skills, check out DigitalOcean, Vultr, Linode, etc.
Most unmanaged services come with an administration panel that allows you to install popular applications like WordPress, Magento, and more.
With unmanaged hosting, you will spend time and money operating your website instead of expanding your primary business.
Key Differentiators
So now we have an idea of what is managed hosting & unmanaged hosting. Let's see what are the key factors that set them apart: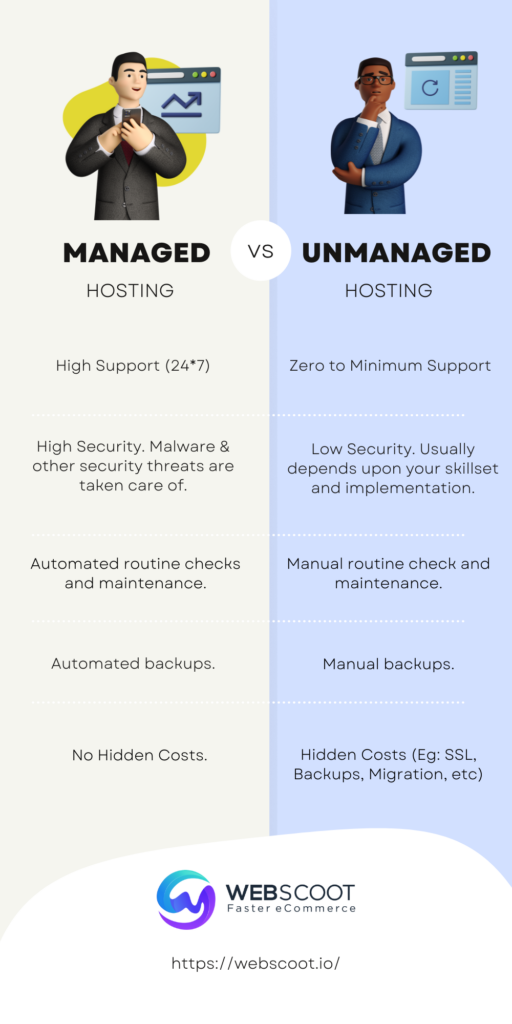 #1. Support
Unmanaged hosting offers you low to no support. Whereas managed hosting is all about support. The degree of support you will receive is perhaps one of the most significant distinctions between the two.
1.1. Stress-free Work Environment for you
Won't it reduce your stress if you have a team of experts who are proactively looking after your website? In the moment of a problem, technical support could give you relief like no other.
1.2. Time to Focus on Other Tasks
It can also free up time for your in-house staff to focus on more essential tasks by reducing the time they spend on the more basic day-to-day tasks of running a website.
1.3. Guiding Light
Support also helps you significantly when you're just starting; you probably wouldn't know everything and thus support could have your back.
1.4. Cost-effective or Costly?
Managed hosting might be more expensive than unmanaged hosting. But getting the support needed whenever you need is worth every penny.
The level of support provided by managed hosting services varies, so when choosing which service to choose, evaluate options first.
#2. Security
Security should be the top priority for anyone who runs a website.
Imagine the potential of a malicious attempt to expose your customers' personal information… How will it impact your reputation, sales, and future? A nightmare, right? As a managed host, we understand all this and take this as our responsibility, therefore, ensuring multilayer security.
Security and malware scanning can uncover a variety of issues on your server, and removal/cleanup services can assist you in removing them if they do appear.
In managed hosting, the experts scan for malware regularly and handle any issues that may arise before it could damage anything.
We set up a Sucuri firewall to block malicious attacks. Scan websites for malware & security issues or preventing unwanted access to the control panel are a few tasks we undertake to ensure security.
On the other hand, in unmanaged hosting; the provider most probably will only cover basic necessary precautions.
Learn How to Perform a Website Security Audit.
#3. Maintenance & Routine Checks
A completely managed service should handle everything that occurs behind the scenes to keep a website up and operating.
Among these responsibilities are keeping the operating system current and safe, as well as customizing the server to your particular specifications if you want it.
It can also assist with the installation of third-party programs, communicating with your website developers about any technical concerns, and making recommendations on how to improve the speed of your site.
A decent hosting plan should offer server and website monitoring, as well as the capacity to respond swiftly to any issues.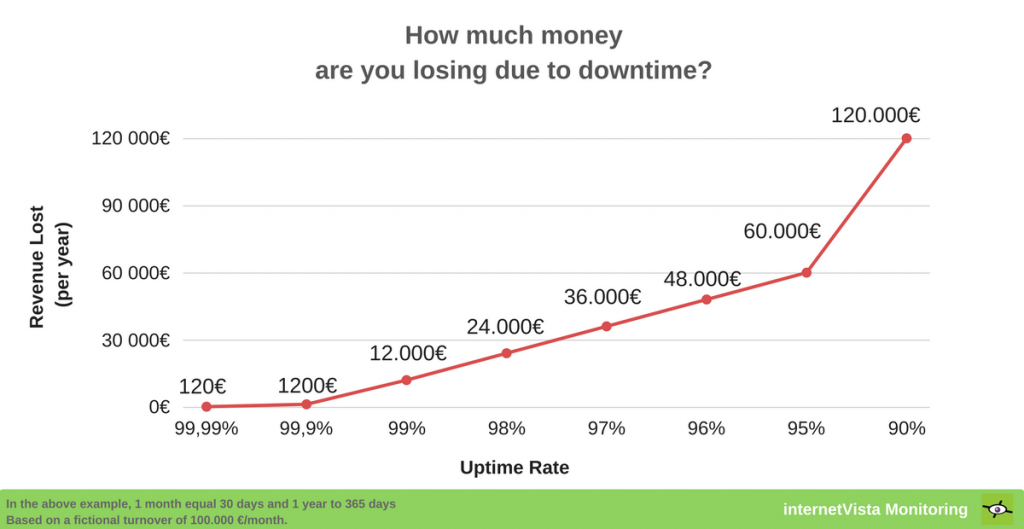 It should also provide a migration service to assist you in moving your website from your existing provider if one exists.
In unmanaged hosting, you'll have to take care of your website from monitoring to security and everything in between.
Read Website Downtime and How to Effectively Prevent it.
#4. Backups
This is crucial because no one wants their data to vanish in a single glance.
Automated backups are a fantastic solution since they provide peace of mind and, to some extent, relieve you of the responsibility of frequently backing up your site.
Not all automated backups are created equal. You should specifically ask the provider about two things:
Is my website's backup stored on the same server as my website?
Do my backups include my databases?
The backup mustn't be stored on the same server as the original. You'll lose your backups if your hardware malfunctions and you need to replace it.
Your databases are usually the most important part of your website. For example, WordPress can be reinstalled, and your theme can be re-downloaded or re-coded.
If you lose your database, however, you will lose all of your posts, comments, users, and other information. In a nutshell, you should always back up your database if you're using a content management system (CMS) like WordPress.
To have a quick view of the difference, take a look at the chart below;
Managed vs. Unmanaged Hosting – A quick view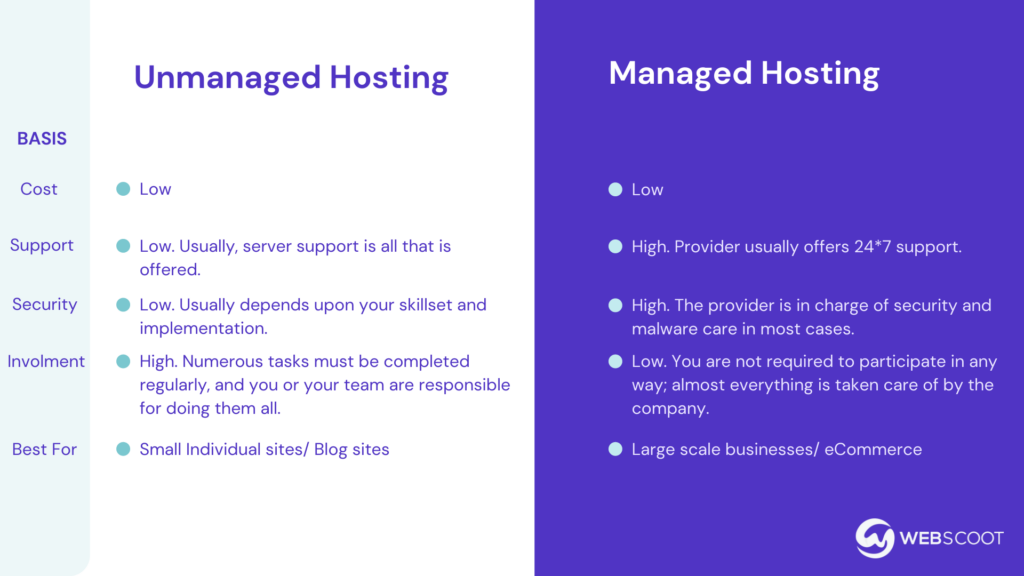 Final Verdict
Now you know what is managed hosting and how it is different from unmanaged hosting.
That said, it depends upon you, the user, your budget, and the requirements you've for your website.
Let's recap;
Benefits of Managed Hosting
Automated updates and utmost security.
Preconfigured CDN & backups along with other features
24*7 support
Cost-effective
Disadvantages of Managed Hosting
Expensive
Limited access to configuration
Limited access to 3rd party plugins and Softwares
Benefits of Unmanaged Hosting
Root access to your server, giving you the freedom to make any changes you wish.
More control over backups and security.
Comparatively cheaper
Flexibility in terms of plugins and software versions that you can install.
Disadvantages of Unmanaged Hosting
No Management: The host may help you install the operating system and may replace some failed components, other server management support is unlikely.
Technical Nightmare: You're the one who has to deploy security fixes and fix the obnoxious error messages. If you lack technical knowledge, unmanaged hosting could become a technical nightmare.
Decrease Productivity: Since you don't have 24*7 support and monitoring, downtime could result in decreased productivity and even huge losses.
Compromised Security: When you use low-cost web hosting, you won't have access to the crucial firewall service that protects your business software from hacking, viruses, and ransomware.
Expensive operation: Don't get me wrong. On the surface, unmanaged hosting seems to be cheap. But keeping it up and running is expensive. You'll need to pay for security checks, traffic surges, fix downtime issues, and other server difficulties. In the end, you'd need a technical professional!
There are about 330,000 web hosting providers worldwide. Choosing a managed hosting provider that caters to all your needs can be tough; unless you're finding your perfect Managed eCommerce Hosting.
WebScoot offers fully managed eCommerce hosting. Know more.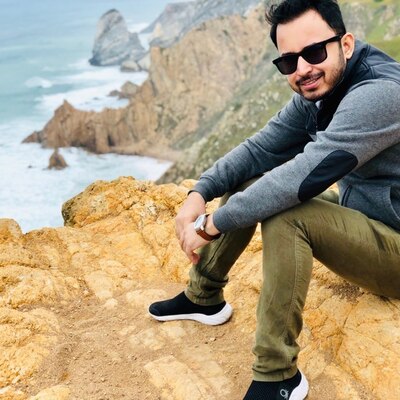 He is the CEO and founder at MageHost. Sahil loves to solve problems and makes sure his clients have a speedy website. When not working hard on his Mac, he is seen traveling!