WooCommerce has quickly garnered a lot of popularity as the most preferred eCommerce CMS. The platform strikes a perfect balance between ease-of-use and complexity. Moreover, it is an extension to WordPress, the platform that powers more than 60% of the internet.
Owing to its reputation, WooCommerce continuously works towards expanding its range of services. If you're not satisfied with the inbuilt features, you can always choose a plugin to add any functionality you desire. While every store chooses a different set of extensions depending on their requirements, there is one plugin that most stores on the platform will need i.e., the WooCommerce registration form plugin.
WooCommerce's default registration form is pretty basic, with not a lot of scope for customizations. By adding a plugin, you can give your registration forms your own spin and optimize them for better conversions.
In this article, we're going to list the 5 best WooCommerce form plugins you can choose from.
Table of Content:
Top 5 WooCommerce Registration Form Plugins

Registration Magic
Pie Register
Extendons
Addify
Codeincept
Why Choose a WooCommerce Registration Form Plugin?
Something as simple as a website registration form should ideally not require a plugin. But, you need to be able to tweak your forms in order to give users a better customer experience, so that they are not discouraged to sign up for your site.
The benefits of a registration form include:
Add custom and advanced user fields: WooCommerce's default form fields are basic and don't contain advanced field options like user roles, color picker, geolocation, social login, payment registrations, etc. All these custom fields will help you extract maximum information from your customers, and also make the signing up process effortless for them.
Automate sending notifications and emails: most plugins will allow you to send custom emails to your users, relaying the status of their application i.e., whether it has been approved, rejected, or pending approval. Along with that, you can also send notifications on any updates or changes on your site. Some plugins will also let you add a newsletter subscription option for better conversions.
Manage billing and shipping better: with custom fields like payment gateways, time picker, Geolocation, billing address, etc you can save customer details from the start. If your customers need to register before placing an order on your store, then it is always more convenient to streamline the process and have them fill in all details during registration itself.
There are many more benefits to registration form plugins, depending on the vendor you're choosing to buy from. So let's look at the best WooCommerce registration plugins available in the market right now.
Interesting read: 23 eCommerce Conversion Rate Optimization Tips to Increase your Customer Base
Top 5 WooCommerce Registration Form Plugins
1. RegistrationMagic – Custom Registration Forms and User Login

This WooCommerce registration form plugin by RegistrationMagic has over 10,000 active installations and comes highly rated on the WordPress website. You can download it for free, although you will have to upgrade to premium if you want to unlock advanced features.
On the design side, it offers two form styles and three layout options. You can also change its color scheme to match it with your brand, and also add your logo to registration forms.
Functions this extension lets you perform:
Add custom fields to your checkout registration form.
Display WooCommerce revenue, downloads, and address information, along with billing and shipping fields.
Create a multi-step registration approval process.
Automate registration approval.
Set redirection after the user logs in.
Allow users to register through social media accounts (Facebook, Twitter, Instagram, LinkedIn, etc).
Easily integrate with payment gateways like Paypal and Stripe.
All in all, the extension comes with a wide range of features, all of them well documented. If you're looking for a wholesome solution with regular updates, then definitely go for this one.
2. Pie Register – User Registration Forms

Pie Register by Gentech Solutions is another commendable form plugin, that allows you to add registration forms anywhere on your website using its shortcodes and built-in widgets. It has an easy to use interface and comes with an impressive feature set. Currently, it boasts of 8000+ installations and a review rating of 4+ on the WordPress platform.
Its features include:
Drag and drop builder for easy customization
Advanced field options: you can add an address, profile picture, time & data picker, upload field
Admins can verify and approve login requests within a time limit set by them
Spam protection by integrating Captcha and reCaptcha
Invite only registration if you have an exclusive site. You can generate and send invitation codes to users
PayPal standard integration for membership payments

The above features belong to the Community or free edition of the plugin. You will find a slew of advanced features like conditional logic, user roles, role-based redirection, built-in form themes, content & widget restriction according to user roles, etc in the premium plan. And the impressive part is, that the feature list doesn't end here!
The vendor also gives you premium add-ons, which are basically extra features you can incorporate in your plan if the need arises. These include Geolocation, profile search, two-step verification, bulk email, etc
3. WooCommerce Registration Fields Plugin by Extendons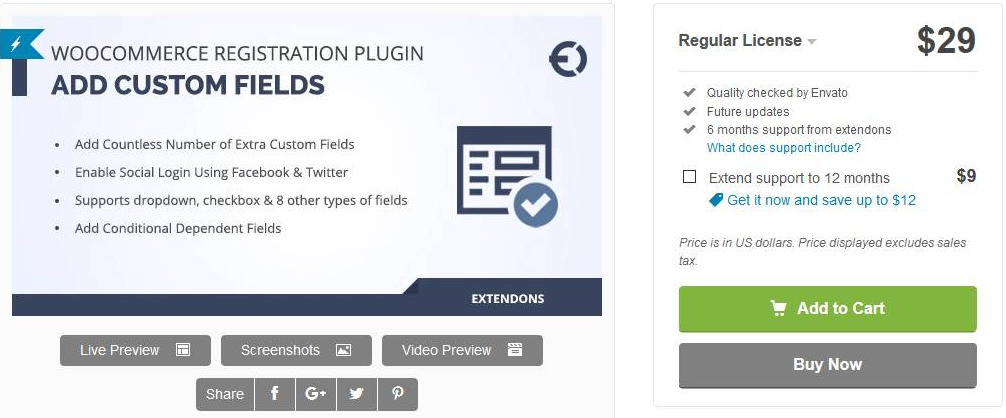 Extendon's plugin doesn't fall short in terms of its feature palette. It allows you to add 14 types of custom registration fields on your form and edit default WooCommerce registration fields. The module is also GDPR compliant and comes with 6 months of support from the vendor.
Features include:
Enable user roles on registration page
Create custom user roles and assign capability, limit access to website content, etc
Choose to auto or manually approve registration requests
Social login through Twitter and Facebook
Display custom message for blocked users, users waiting for approval, etc
Add Google ReCaptcha to avoid spamming on the registration form
Customers can edit their profile
As you can see, the basic and advanced functions are pretty much there.
The only shortcoming you'll find is that its a fully paid solution (priced at $29). You can easily find freemium solutions offering many features for free if you're not willing to shell out money. Also, there are no prebuilt layout or themes, which could be an issue.
4. Custom User Registration Fields by Addify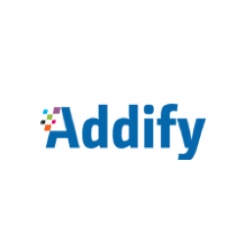 Addify's plugin allows you to add unlimited custom registration fields to your registration form like uploads, dates, checkboxes, dropdowns, multi-select options, user roles, etc. Moreover, you can choose fields according to user roles and display them only when a customer selects a particular user role.
Key features:
Choose auto or manual method of request approval
Automated email notifications to admins and users
Compatibility with all third party user-role extensions you might have
Choose from 14 custom field types
Add custom labels, placeholders, and descriptions for each field, and specifiy which ones are required
Apart from all the basic features, this plugin also helps you conduct B2B registrations. You can add fields like VAT number, company name, etc and create user roles like Wholesaler, retailer, etc.
The pricing is $49 with one year of free support and updates.
5. WooCommerce User Registration Plugin by Codeincept

This WooCommerce registration form plugin by Codeincept allows users to add custom registration fields like text, number, address, email, date, file upload, custom text, etc. Admins can approve new login requests automatically or manually, according to their convenience.
It is a paid solution, with a regular license of $19, that comes with 6 months plugin support.
Feature set includes:
Create custom user roles and allow users to select their roles while registering
Drag and drop editor that lets you adjust registration fields
Manage custom email notifications
Notify users when account is activated, deactivated, or requested role is accepted
Block users login when needed
The feature range of this one is pretty basic compared to others on the list. For example, there are no layout/theme options to choose from, and no social login feature. Two things that are very important in a registration form plugin. If you're content with basic features and don't really care about bells and whistles, then you can go for this extension.
Conclusion
The above list was made keeping in mind all the requirement factors and industry standards. All the plugins mentioned are easy to add and set up, with an uncomplicated user interface. Most likely you won't need to look for alternatives, if however, you do have some suggestions in mind, do mention in the comments below!
Read next: WooCommerce Security Guide for A Safe Store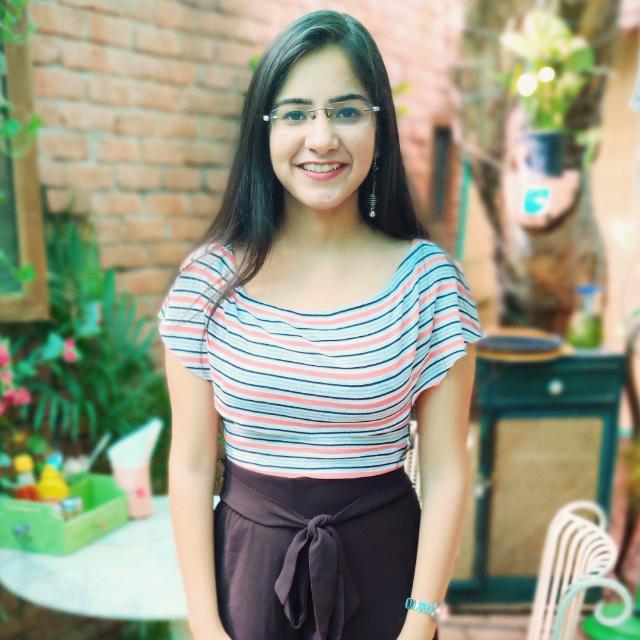 Divya loves writing and is passionate about marketing. When not trying to hone her skills, you'll find her either reading or binging on TV shows.