When it comes to eCommerce websites, the more visual the better- this is one mantra I think all online store owners should follow to dazzle customers with their website design. Especially when 94% of the user's first impressions are design-related.
Your online store's front end is the only interaction your customer is going to have with you. This is why today, a website's design is not just about fonts and colors, it's also about creating a user experience that translates into sales. This includes responsiveness across all devices, touch gestures, easy navigation, captivating interface, and more.
So if you're looking for a suitable theme, it's advisable to look beyond layouts and colors. Look for templates that will maximize your user's interaction with your website.
Since Magento is already a pretty expensive platform, it's best to pick a template from free Magento 2 themes and customize them to fit your taste. Though limited in number, free themes will give you a prebuilt structure you can work over to create your website.
Table of Content:
Criteria for choosing a Magento 2 theme

User-friendliness
Overall design
SEO friendly
Customizability
Responsiveness
Cross-browser compatibility
Multiple languages
Suitability

Best free Magento 2 themes for 2022

FreeGo
UB trex
Bizkick
Ves Yume
Ves Need
Ketty
Pixtron
Absolute
Bentriz
Ves Fasony
Ves Kasitoo
Criteria for Choosing A Magento 2 Theme
Before we get started, let's elaborate on the things you need to keep in mind while selecting a theme:
1.User-friendliness
A website's interface needs to be easy to understand and navigate. Look for themes that allow you to add filters, touch gestures, sliders, ajax carts, back to top buttons, new arrivals, etc.
2. Overall design
It's best not to over complicate things and invest in over-the-top designs that might affect your website's speed and clutter your user's mind.
eCommerce websites should have a clean and polished look, with big blocks that allow you to add images and banners. Look for grid and column layouts that are well organized
3. SEO friendly
SEO friendliness is an important factor for all eCommerce websites. The themes you're choosing should have clean HTML and CSS codes that are not very heavy. Also, your theme needs to be fast because Google penalizes websites that take a lot of time to load.
4. Customizability
No matter what theme you choose, you'll have to give it a makeover to give it your voice and style. Always choose a theme that can be modified to whatever extent you want it to.
Look for themes that you give you a clear insight into its code so that you don't have to go through a lot of trouble to change it.
5. Responsiveness
Regular shoppers will prefer to have your store's app in their phones for easy accessibility. Make sure that your theme is responsive across all devices (laptop, desktop, phone, tablets, etc) so that your design remains intact. This also important because mobile responsiveness plays a big role in SEO as well.
6. Cross-browser compatibility
Your user could be using any browser- Chrome, Safari, Bing, firefox. Cross-browser compatibility will ensure that your store theme doesn't get distorted on other browsers.
It would be foolish to design a smashing website and lose customers because it doesn't display properly on other browsers. So take care of this factor when choosing from free Magento 2 themes.
7. Multiple languages
Your audience could be scattered all across the globe. Choose a theme that supports multiple languages and currencies.
8. Suitability
Choose a template that best suits your business. This way, if it fits your business style and theme, you won't have to make a lot of changes to your website.
If you're a clothing store, then choose a theme that supports big images, if you're a mobile store, then a theme that focuses more on product descriptions would be more suitable.
Best Free Magento 2 Themes for 2022
1. FreeGo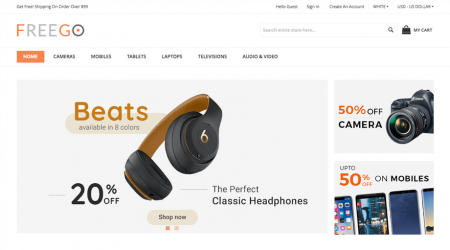 FreeGo is a minimalist theme by Softwin. It has a clean and simple interface and is fully responsive across all devices. You can customize it easily from the backend to give it your own spin. It has a Mega menu for more advanced navigation, and you can also add a blog page to your website using its inbuilt blog extension.
Moreover, it has a child theme ready so that you can easily manage the updates and customizations of the theme.
Features:
Sold out label extension.

Featured product list

Browser compatibility

Powerful Admin Panel

Off-Canvas Menu

Touch-Optimized Slideshow
2. UB Trex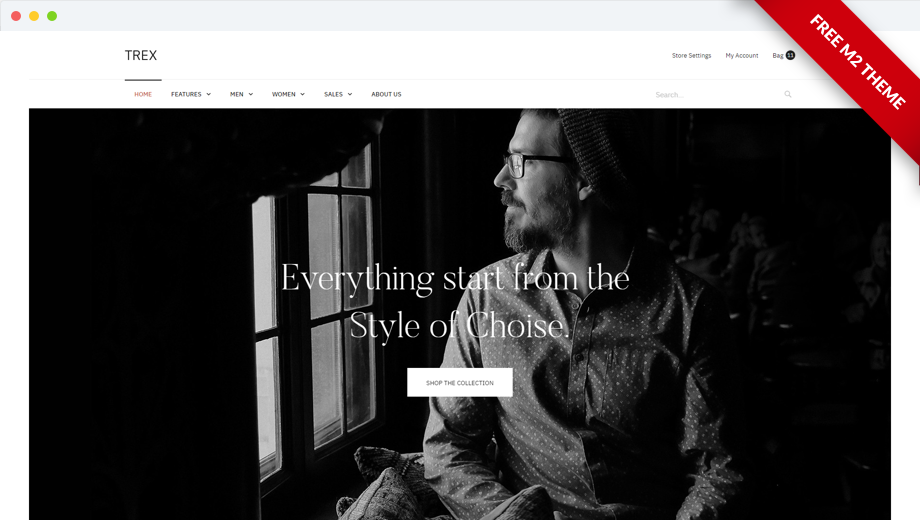 Another simplistic theme, UB Trex by Ubertheme offers a great design, especially for fashion eCommerce stores. It has a purely flat homepage that enables you to add important information along with product images to captivate your customer's attention.
Features:
Customers can switch between grid and list layout for a more personalized user experience.

A handy mini cart widget for a disruption-less shopping experience.

Easily customizable

Fully responsive
UB trex's features seem to be focused on enhancing the user experience of customers, which is a quality that can't be overlooked when choosing a theme for your store.
3. BizKick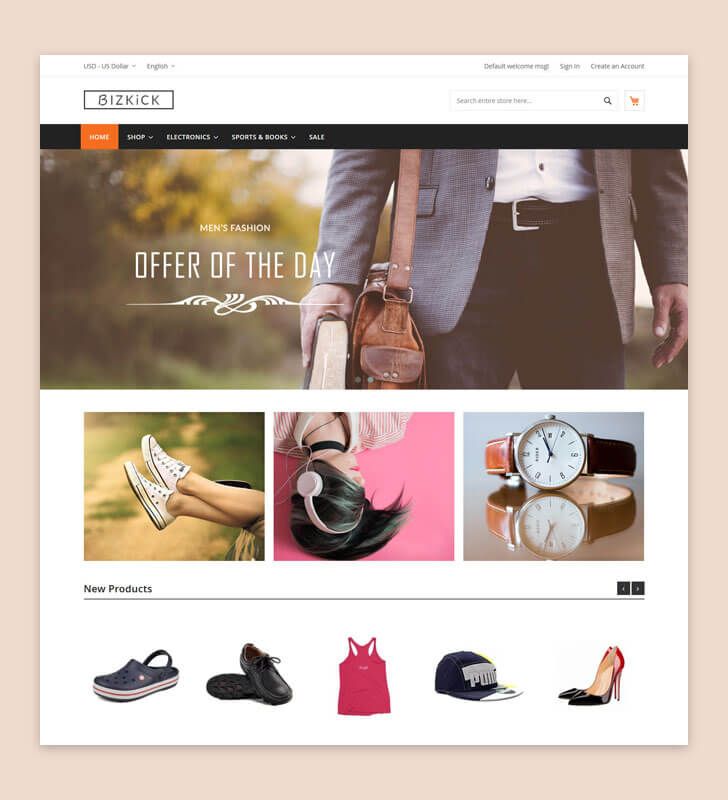 Bizkick is a clean-coded theme, fully optimized according to Magento's coding standard. It follows a beautiful block design and is perfect for a fashion store, accessory store, shoe store, and apparel store.
Features:
Search engine optimized for a better Google ranking

Fully documented so that you can find everything about its code for easier customization.

Cross-browser compatibility

Easy installation

Mobile responsive
4. Ves Yume

If big, bold and beautiful is your style then Ves Yume is for you. Go all out and play with colorful image backgrounds to bring out the boldness of this theme.
Features:
Ajax cart

Off-canvas menu and header link

Image gallery in product details

Font Awesome integration

Dedicated customization services
5. Ves Need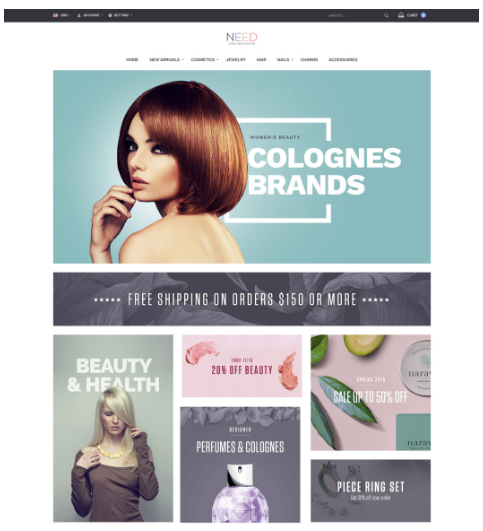 Another slick design by Venus theme, Ves Need has an elegant layout with disproportionate blocks. It is fully responsive and optimized for mobile devices, and has a powerful admin panel.
Features:
Fast load page.

Based on Magento blank theme

Touch-optimized slider

Product list carousel so you can show new arrivals on the home page.

Dropdown menu

Includes PSD
6. Ketty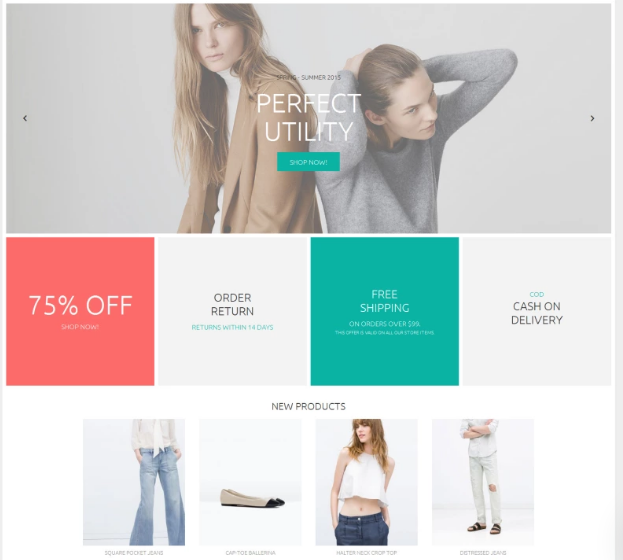 Ketty is a polished theme with a light-looking design. It comes with a slider that customers can flip through to see the latest deals and offers. It has a very modern look with changeable fonts.
Features:
Color filters

Product zoom

Checkout improvements

SEO friendly

Compatible across all browsers
7. Pixtron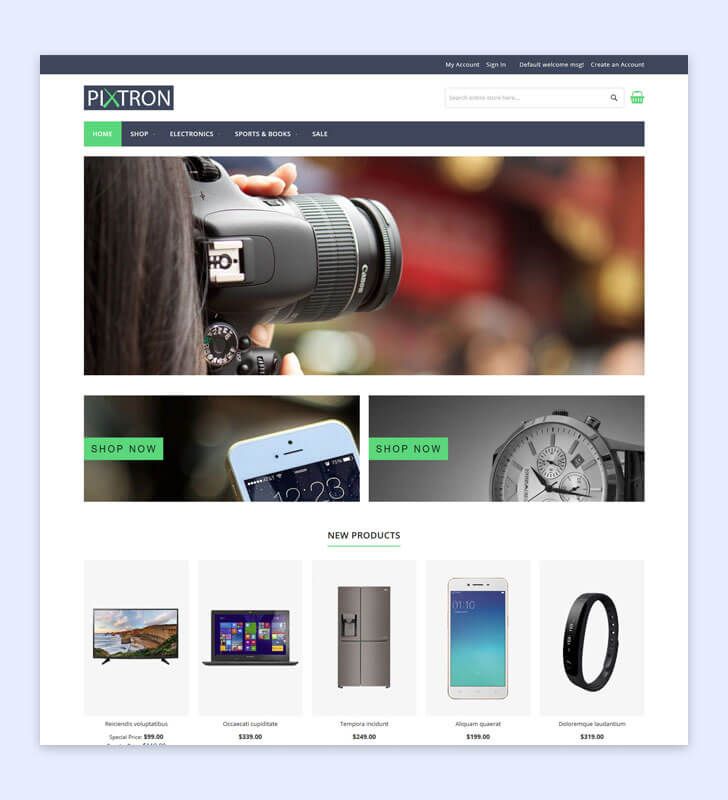 Pixtron is specially designed for an electronics store, mobile store, or a digital store. It's compatible with all Magento 2 versions. It has a sleek design that can be customized and used for any type of store.
Features:
Compare products functionality

Well documented

Clean coded

SEO friendly
Interesting read: Magento SEO Guide: Everything You Need to Know

8. Absolute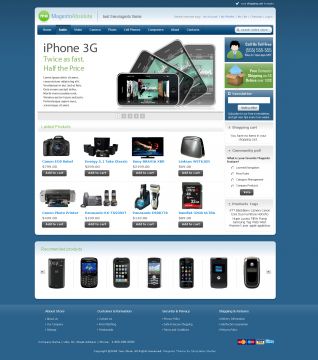 Absolute is the most popular free Magento 2 theme based on a two-column layout. It's a more professional template with a formal look and might be best suited for mobile stores. Its latest version comes with search autocomplete, mega menus and dropdown styles.
Features:
Mobile responsive

Theme editor

Quick product overview features

Compare products feature

Product and image slider
9. Bentriz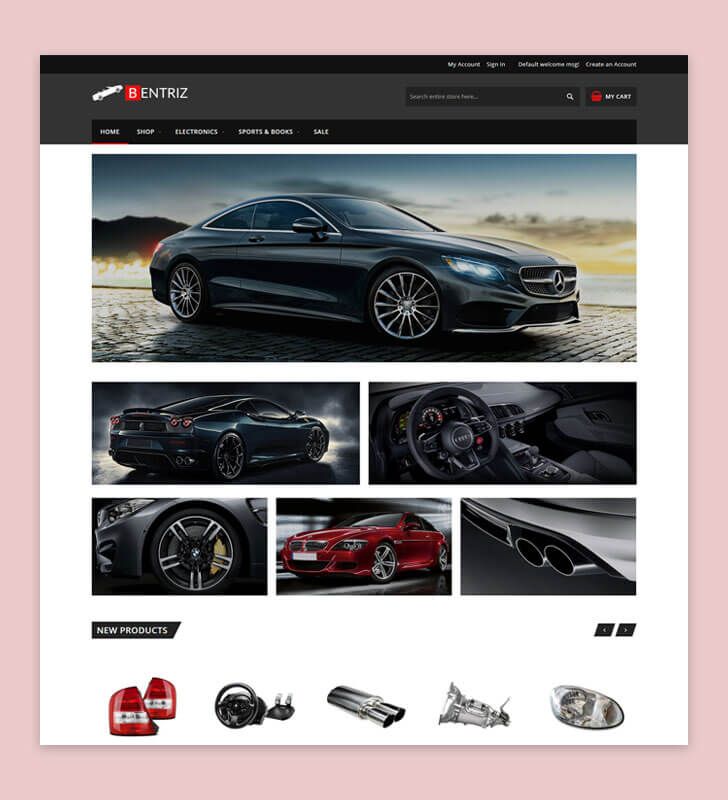 Bentriz is a very visual and classy template that you can easily customize to give your store a posh look. It is specially designed for auto stores, auto spare parts, cars & bikes, and tools store. It has been hand-coded to keep in line with the current Magento 2 guidelines.
Features:
Fully Responsive.

Featured Product List

AutoInstall Demo Content

Easy Use and Easy Customize
10. Ves Fasony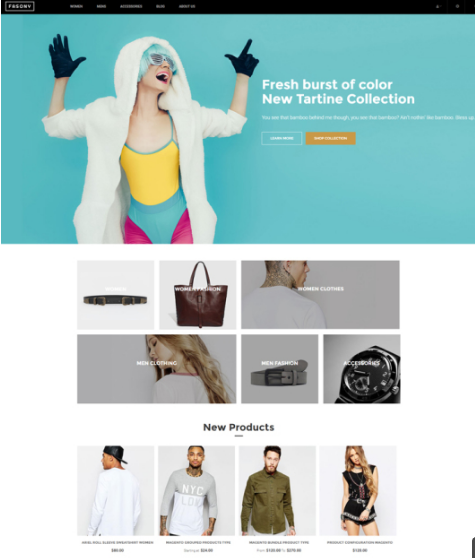 Ves Fasony's template fit for an apparel store. It's built with Bootstrap 3.x, tailored for a good customer experience. You can add customer testimonials and new arrivals on the homepage.
Features:
Touch-optimized slideshow

Brand owl carousel so your customers can find products by brands.

User-friendly admin panel

Compatible with Magento marketplace extensions
11. Ves Kasitoo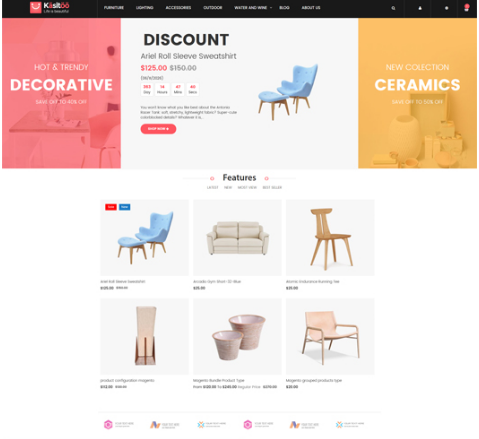 Kasitoo is specially designed for furniture stores and is one of the fastest Magento themes out there. It has a neat design and you can display featured products on the home page.
Features:
Retina ready and fully responsive

Touch-optimized products carousel

Off-canvas menu

You can show product tabs such as the latest, most viewed, bestseller, etc.

Fast page load time.
Lastly
All the above free Magento 2 themes are highly customizable and should be fit for all kinds of eCommerce businesses. Some of them might provide additional functionality and support, but only on payment.
If you feel like I might have missed a theme or have any other valuable suggestion, do leave us a comment!
Also, if you're new to the world of Magento and would like to know what kind of hosting services, extensions, etc you'll require for your store, talk to our experts now.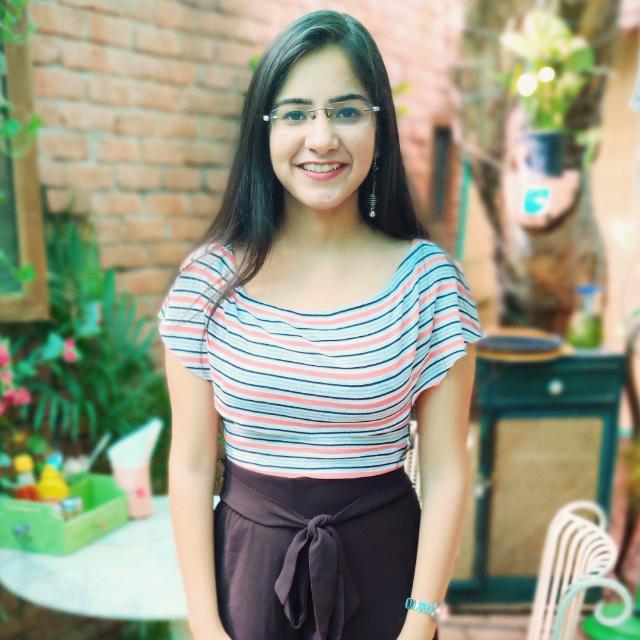 Divya loves writing and is passionate about marketing. When not trying to hone her skills, you'll find her either reading or binging on TV shows.