AWS is the world's top provider of cloud-based and has proven to be a great choice for eCommerce. Companies that invest in the AWS cloud see an increase in revenue almost immediately.
AWS accounts for 13% of Amazon's overall sales, which is an interesting number.
The assistance it gives, the quality of services it delivers, and the advantages it offers in terms of its varied, trustworthy, and secure cloud features are the key reasons for AWS's market reach.
The Amazon Web Service cloud hosting platform has reserved its place on the top shelf in cloud computing. Several major eCommerce sites, like Alibaba, Ikea, Netflix, Pinterest, McDonald's, and many big brands are using AWS Cloud hosting solutions.
Popular retailers and eCommerce firms like Snapdeal, Shopify, and Instacart use AWS eCommerce architecture to host the main applications of their websites.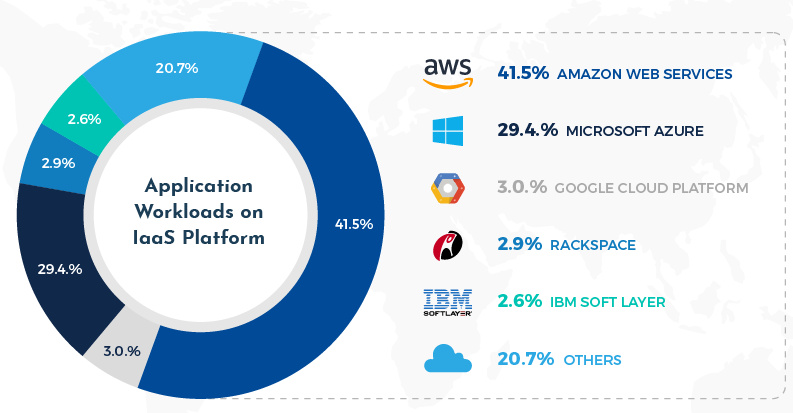 We can see the praise AWS is getting but what makes it so special? Is AWS really worth all these praises?
Well, let's figure that out through 7 reasons why.
Let's dive right in!
Table of Contents
Before we move further into the topic, let's see what Cloud Computing is if you don't already know. If you do, simply skip this section.
What is Cloud Computing?
Cloud computing is the supply of online services (such as servers, databases, and software) to users. Cloud computing enables you to have access to data stored on a remote server.
Thus data storage on local workstations is no longer necessary thanks to cloud computing; You can store and access data from anywhere on the planet.
In other words, Cloud computing is the on-demand, pay-as-you-go distribution of IT services over the Internet. Instead of purchasing, operating, and maintaining physical data centres and servers; you may rent computing power, storage, and databases from a cloud provider like Amazon Web Services(AWS) on an as-needed basis.
Now,
What is AWS?
Amazon Web Services (AWS) is a web-based platform that offers scalable and cost-effective cloud computing solutions.
AWS is a widely popular cloud platform that allows businesses to scale and grow by providing on-demand services such as computational power, database storage, and content delivery.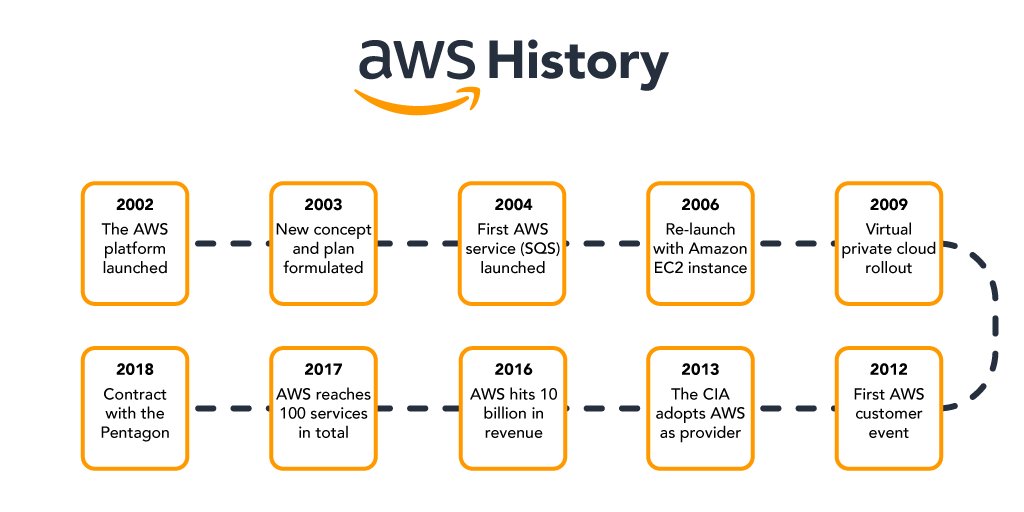 To say it another way, AWS is a highly available, secure cloud computing platform with over 100 cloud applications. Using a pay-as-you-go method eliminates the need for upfront capital. It aids in the management, control, and auditing of identity, configuration, and usage.
Docker, Kellogg's, NASA, McDonald's, BMW, Harvard Medical School, and Adobe, to name a few, employ AWS's services.
Let's look at what makes AWS so special now that you know how popular it is around the world.
The Hype for AWS
Nordstorm, Instacart, and Snapdeal, among others, have converted to AWS architecture; and now run their primary apps on the Amazon Web Services (AWS) Cloud.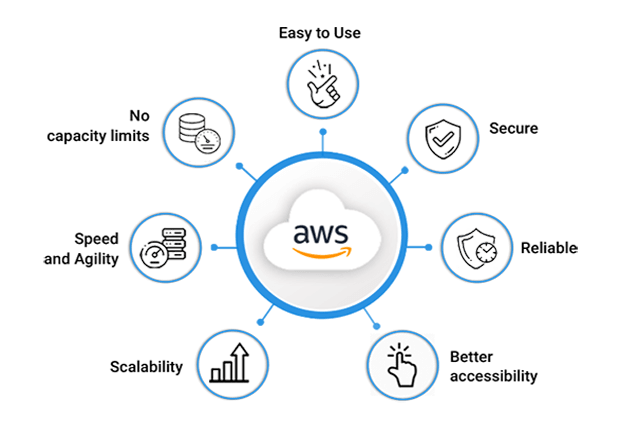 Such behemoth trusting AWS for their business caused a stir in the industry, wondering and praising the applications of AWS.
This is due to two factors.
The first is about staying ahead of the technology curve since interconnectedness necessitates the use of technology to interact, engage, and sell.
The second reason is that these brands will choose more secure, stable, adaptable, and globally compatible infrastructures after migrating to AWS architecture, allowing them to scale.
Because AWS is the market leader in the cloud computing industry, it now hosts the applications of large brands such as Unilever and Airbnb.
Although Google's GCE hosting and Microsoft Azure have joined the fight to succeed in the race, AWS is the market leader in the cloud computing industry.
The majority of AWS platform service providers are based on the Amazon technology team's experience managing some of the world's largest eCommerce stores.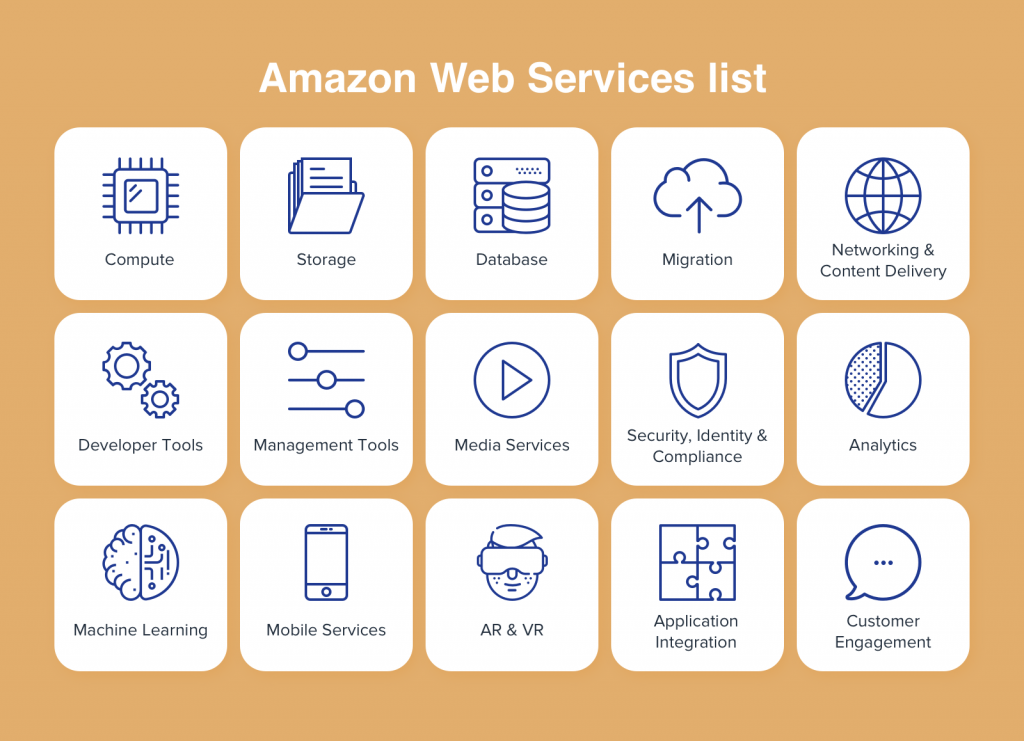 They built a NoSQL database technology to develop a very efficient product known as a 'Catalog Service', to give you an example of one of their best job. This Catalog service is the most basic technology component that enables an eCommerce business to function.
If you're wondering what a NoSQL database is and why it's such a big deal, it's a fast database that's scalable and can manage a lot of traffic by adding more servers.
This explains why AWS eCommerce solution for eCommerce stores and online retail shops is an ideal cloud solution that is embraced by the entire business community because of strong AWS monitoring and security processes; similar to how NoSQL technology is embraced by many developers across a wide variety of application domains and uses cases.
7 Reasons Why AWS Is The Choice For eCommerce
Okay AWS got some real hype, still, are there any reasons why you should choose AWS for your eCommerce?
I'll present you 7;
1. Cost-Effective
With AWS, you simply pay for the resources you use. As a consequence, it's critical to spend your money on the things that set your company needs.
Don't worry if you're overwhelmed by the vast services provided by AWS, you're not alone!
Most of the eCommerce owners lose track of what's needed or don't monitor at all and end up spending thousands of dollars.
Interesting Read: How We Helped A Hacked Website & Doubled Its Growth On AWS
Whether you've just started out or are a large corporation, you can only save money if you can take advantage of the services your company requires. In comparison to other on-premises services, AWS has a very reasonable price.
However, AWS requires constant monitoring and expert support for maximum benefit.
2. Scalability
AWS has everything you need to better your IT infrastructure, whether you're moving to the cloud for the first time or migrating from another cloud service platform.
Thanks to Amazon's vast infrastructure, you have access to processing and storage resources whenever you need them.
Their features like Auto Scaling and Elastic Load Balancing allow you to scale assets up or down, so you won't have to worry if the volume is an issue or if your needs change. To understand the requirements of your framework, you don't need to make any wild guesses or invest in any scientific research.
Amazon Machine Images (AMIs) allow you to quickly create clones in many locations for diverse scenarios, eliminating the need to repeat the setup processes each time.

3. Security
According to Forbes, Every day, around 30,000 new websites are hacked on average!
Considering you run an eCommerce, the risks increases. That said, retail was the most targeted sector for cyberattacks in 2020.
Now, a secure network sounds like a must, fortunately; there is AWS.
Amazon Web Services places a high priority on defending your company against data breaches and hacking threats. They have several well-regarded compliance certifications and adhere to international security rules.
To secure and fortify the infrastructure, AWS uses an end-to-end approach that includes physical, operational, and software measures.
Both physically and virtually, AWS has created a world-class, extremely secure framework.
Our experienced team of engineers proactively monitor our clients' websites to add a double layer of security. If anything goes down, our team immediately take care of servers before it hits your customers.
4. Easy to use
Whether it's existing or new SaaS-based apps, AWS is designed to help application providers, ISVs, and vendors host them fast and securely.
When you sign up for Amazon Web Services, you'll be met with the AWS Management Console, which is a simple and easy-to-use interface.
You can access a variety of apps and services through this server interface.
While it is advised that the system be managed by IT professionals, you can do it too if you're willing to go through a learning curve. Else, managed hosting is recommended.
The company provides well-documented web services APIs that you may utilize to access the platform, making it reasonably straightforward to use. For your IT needs, this effectively eliminates the need for an on-site server.
5. Astonishingly Extensive Toolkit
AWS began as a cloud storage and computing platform but has since grown to include over 70 other services. Databases, software, mobile, analytics, and networking; all of them come under the umbrella of AWS.
Overall, it's a one-stop-shop for all of your cloud computing and IT requirements. It gives you a ready-to-use platform that you may utilize to boost productivity and effectiveness.
Since all of your demands can be met through a single platform, employing Amazon Web Services relieves you of the stress of having to keep track of multiple vendors.
6. An Innovative Checkout process
The checkout service is the next important component of an eCommerce store. Keeping the checkout service in good working condition necessitates the coordination of numerous workflows and phases.
Customers increasingly want their personal information such as credit card numbers, social security numbers, and order histories, to be kept secure on a compliant application stack.
Amazon Web Services security delivers a secure and certified cloud architecture for eCommerce applications; taking these viewpoints into account and helping eCommerce retailers achieve regulatory compliance and security.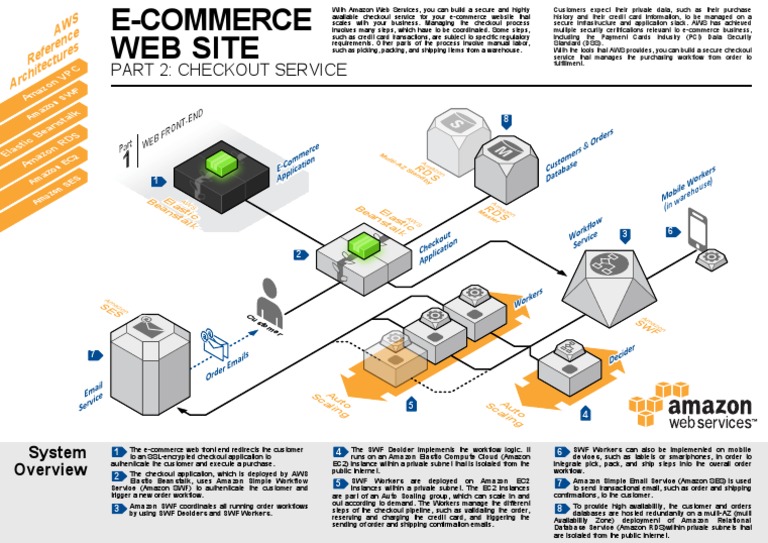 Based on its customer experience, they regularly publish its security best practice guidance. Using the tools offered by Amazon Web Services, one can create a secure checkout service that manages the purchasing procedure from order to fulfilment.
7. Efficient Catalog Service
It is difficult for eCommerce businesses to keep the product catalogs and customer base up to date. Therefore, to run a successful store, you need to use an effective system that cuts out extra efforts.
AWS provides you with one.
The catalog must be searchable and indexed. Every page should have valuable content such as customer reviews, photos, and product information that a consumer is looking for.
With AWS's proper auto-scaling feature management, an eCommerce business will be able to accommodate millions of catalogue views as well as thousands of order transactions; all while meeting the best goals.
You can also use AWS ready-to-use eCommerce architecture and blueprints.
Magento and other eCommerce web platforms have published versions of their software that have been fine-tuned to AWS architecture.
Final Words
There you have it, seven reasons why you should choose AWS for your eCommerce.
AWS has claimed as one of the most reliable, secure, and scalable options you could go for; plus the plethora of features are show stoppers.
Amazon's vast infrastructure act as the cherry on top and provides you with all-around service.
Having years of expertise, WebScoot assists its clients with fully managed eCommerce Hosting powered by AWS at a fixed cost. So you need not worry about burning a hole in your pocket. Get a Free Consultation Today!
Next Read: Difference Between AWS & Digital Ocean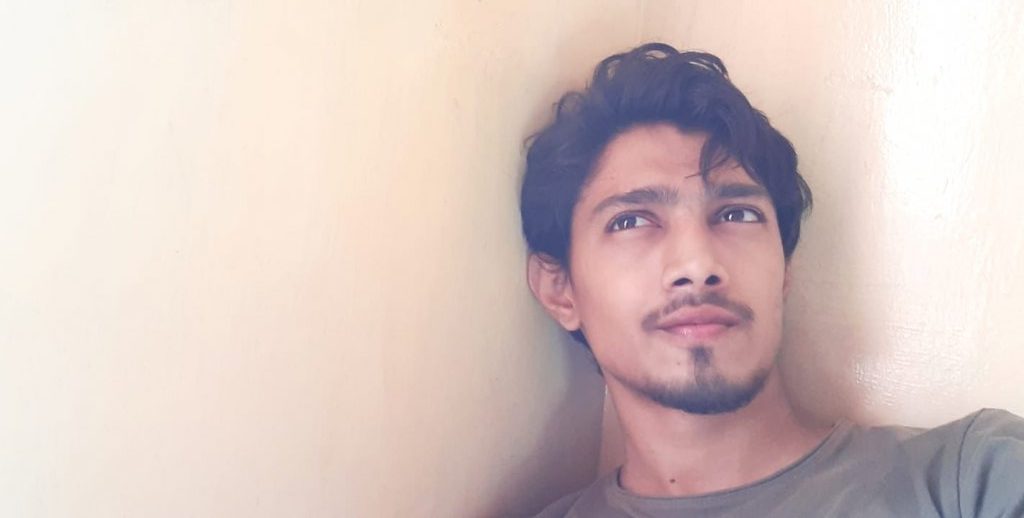 Foorqan is a Digital Marketing enthusiast who likes to play with current Digital Marketing techniques and try new Marketing tactics. When he's not following his passions, He follows his hobbies which are reading, traveling, and writing.