Presently, The eCommerce marketplace is perhaps the most dynamic space in the world, experiencing exponential growth and innovation.
As technology brings us new kinds of devices, eCommerce is evolving and imbibing infrastructural changes so that it can reach consumers across various channels and touchpoints. Online selling is not just limited to the traditional website setup anymore.
The IoT era has ushered in new devices (voice assistants, smart watches, Amazon dash button, etc) through which customers can purchase products online.
In this article, we will explore how headless eCommerce facilitates faster growth and richer customer experiences. And also how it enables eCommerce businesses to adapt to new-age devices.
Table of Content:
What is Headless eCommerce?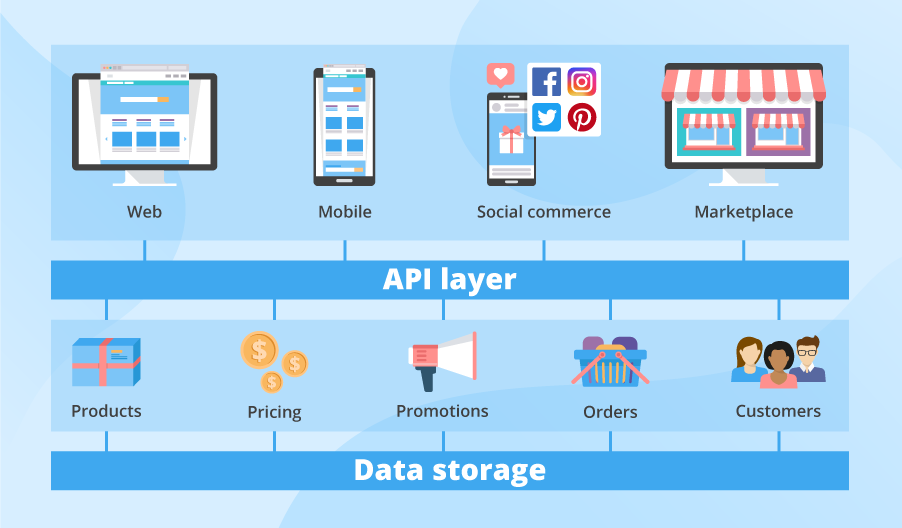 Headless eCommerce is a solution where the frontend presentation layer is decoupled with the backend infrastructure of the eCommerce application.
To put it another way, this means that you can edit the frontend or 'head' of your eCommerce website (user interface, IoT, theme, template, digital marketplace, etc) independently, without needing to make changes in the backend.
With the 'head' (frontend) detached from the backend, developers use APIs to deliver elements like blog posts, customer reviews, products, etc to any device, while frontend developers separately work on presenting content using whichever framework they desire.
While Traditional eCommerce is only build to deliver content in the form of web pages and mobile or desktop apps, a headless architecture delivers a business's platform via a RESTful API.
Since the frontend is not firmly attached to the backend, eCommerce companies can deliver content, products, payment gateways, etc to new-age devices like smartwatches, voice assistants, Kiosk screens, billboards, etc.
Headless eCommerce is an evolutionary architecture that has been modeled for the IoT age. Not only It aims to make eCommerce compatible with all kinds of futuristic devices but also offers more flexibility and gives brands more freedom to create a custom user experience for visitors.
Headless eCommerce Vs Traditional eCommerce
| | | |
| --- | --- | --- |
| | Traditional eCommerce | Headless eCommerce |
| 1. | Attached frontend and backend. | The frontend layer and backend are decoupled. |
| 2. | Frontend designers are restricted to follow a theme or template. | Frontend designers can build the frontend user experience from scratch and make it more personalized. |
| 3. | Any changes in the front end involve editing of the backend database, code scripts, & the framework as well. | Frontend developers need not worry about making changes in the database. All they have to do is make API calls. |
Major Advantages of using Headless eCommerce
1. Adopt an Omnichannel Model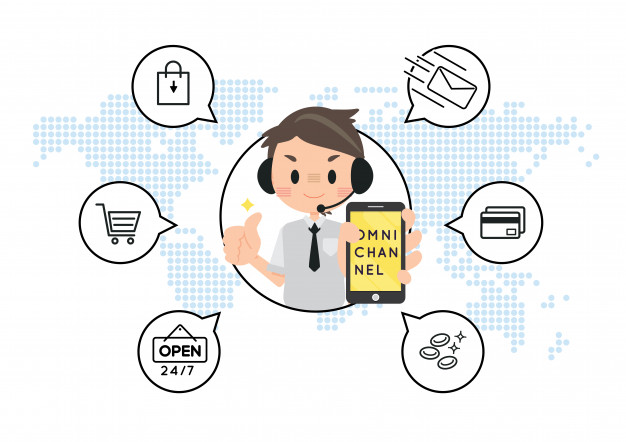 Traditionally, users shopped on brick-and-mortar stores. Now they can shop online through:
An eCommerce website using desktop and mobile devices
Social media platforms like Instagram
Smart speakers using voice search
Traditionally, any eCommerce platform would have to go through significant development as well as testing phases to optimize a website for all channels. Because headless commerce is API driven, and the backend and frontend are separate, it is much easier to make significant frontend changes and roll out content to new channels.
2. More Freedom to Personalize and Customize
In headless eCommerce, you're not bound to a fixed theme or template offered by the CMS you're operating on. The frontend is built from scratch, which is why it is easier to customize your site as well as fit it to your needs perfectly.
Brands that aim to grab eyeballs and drive engagement through content experiences are nonetheless bowled over by how easy it is to make the desired changes in the frontend architecture of a headless eCommerce platform.
Headless commerce gives you the ease of use and flexibility of a CMS like WordPress or Drupal, coupled with the security and compliance functionality of an eCommerce platform.
3. Decrease in Customer Acquisition Cost
Customer acquisition costs are rising because marketers are becoming increasingly dependent on paid advertising to attract customers.
These costs can get a reduction by headless eCommerce, on the contrary as brands can now rely on powerful content-driven user experiences to attract traffic organically. They will not have to rely on paid advertising as much. Moreover, rich customer experiences might pull up conversion rates as well.
4. Fastrack Growth & Innovation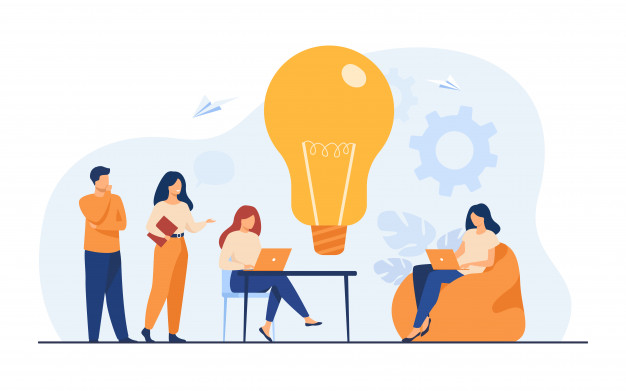 Headless eCommerce has been tagged as 'evolutionary technology' by many experts. This is because you can easily remodel a headless architecture for different types of devices.
In business, marketing and development teams need to develop and conduct A/B testing for months before a new product or campaign can roll out. Headless eCommerce makes this whole process more agile with its flexible architecture.
eCommerce teams can now respond to dynamic market changes more swiftly, For instance without having to go through major structuring or restructuring hassles.
5. Effortless Integrations
In headless, the backend as well as frontend communicate and work in tandem through API calls. Also, having an API in itself means communication and integration with other platforms are easier.
You can readily add your brand to any new device, expanding growth opportunities and reaching more customers simultaneously. Also, instead of taking months to create a seamless integration for new devices, it will take you a few hours or days to complete the entire process.
6. Time-Saving for Development Teams
Developers can save up a lot of time on front-end user interface changes. Since the platform's interface layer functions independently, developers don't have to spend hours coding and updating changes in the backend.
Moreover, with headless templates and partner solutions, developers need only minimal coding to kickstart an eCommerce app or solution.
Interesting read: 23 eCommerce Conversion Rate Optimization Tips to Increase your Customer Base
Are there any Drawbacks to Headless eCommerce?
Headless eCommerce has two major drawbacks:
1. Development Costs
Headless eCommerce does not provide a frontend, which means that developers have to design it from scratch. Though building templates and user interfaces from the ground up gives developers the ability to craft excellent customer experiences, it can be very time consuming and costly.
Also, developers will have to conduct troubleshooting as well, which will raise the ongoing costs.
Moreover, Any brand that doesn't require high level customizations, and has no plans for innovation in the foreseeable future is better off with traditional eCommerce.
2. Not Exactly Marketer-friendly
Marketers with no technical knowledge rely on CMS templates as well as themes to create content experiences and make iterations.
With headless eCommerce, marketers can no longer create content owing to a WYSIWG editor. They won't be able to preview content to gauge how it looks on the end user's device.
Instead, marketers will be reliant on the frontend developers to build the presentation layer, add content to it, and also update it.
Top eCommerce Platforms Leveraging Headless Technology
1. Shopify Plus
Shopify Plus users can leverage APIs and Shopify SDK's along with a CMS to handle content at scale.
2. Magento 2
Magento 2 users can use Magento APIs but will have to simultaneously employ a third-party CMS to handle large quantities of content.
3. BigCommerce
BigCommerce has partnered with major CMS and eCommerce players in order to offer a seamless headless eCommerce solution. The platform has prebuilt integrations with WordPress, Drupal, Bloomreach, Adobe Experience Manager, and more to name a few.
Headless Solutions are the Future!
Customers, especially Gen Z, are happily adapting to new ways of shopping online. Consequently, As the market grows more robust, businesses have to make changes regularly to stay competitive and expand their customer base.
Many brands feel that headless eCommerce gives them a greater level of adaptability so that they can respond to new technologies and create unparalleled user experiences.
If you have any queries or feedback, do mention in the comments below!
Read next: eCommerce Trends 2020: 10 Trends Driving the Future of eCommerce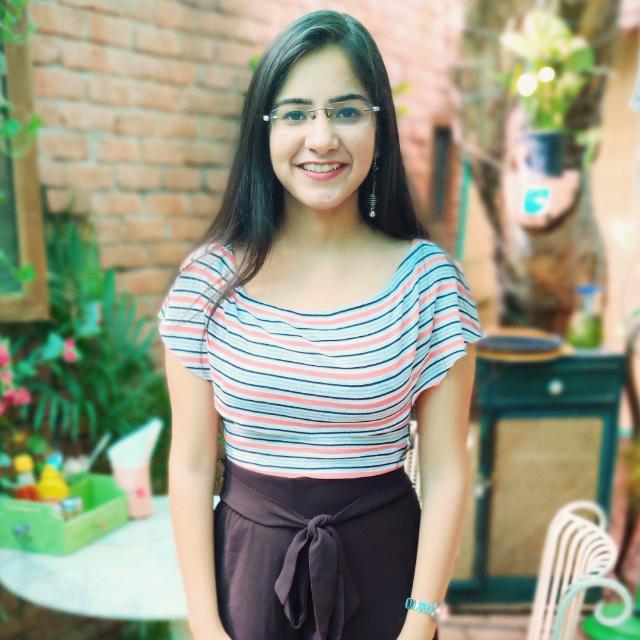 Divya loves writing and is passionate about marketing. When not trying to hone her skills, you'll find her either reading or binging on TV shows.