Proven Tactics To Improve eCommerce UX
The eCommerce business is relatively easy to start but managing it effectively could be challenging for merchants. As there are famous brands that allow purchasing products through their online stores and have integrated seamless shipping and delivery options. It becomes necessary for store owners to step up and improve eCommerce UX as much as they can.
The Magento content management system has acquired a great reputation through seamless services. The platform is backed up by a range of powerful extensions that can be integrated into the store to perform a variety of tasks for significant business growth.
Today we are going to discuss how e-commerce store locator and in-store pickup options can enhance the end user's experience.
Why Is Seamless eCommerce UX Important?
When your customers choose your business domain to purchase the intended products, they demand to have smooth access to the product. They require navigating easily through the website and can easily finalize the purchase.
Not every customer lands on an eCommerce website to make a purchase. Many tend to explore the website to find a particular product and to compare it with other similar products. Most people who are making purchase decisions also land on your online store when they find out that it is present there.
Optimal eCommerce UX (user experience) is essential because before making the purchase, the customers consider how convenient it is to navigate through the website and how easy to perform a checkout. The presence of numerous features and functionalities can enhance the user experience up to certain levels.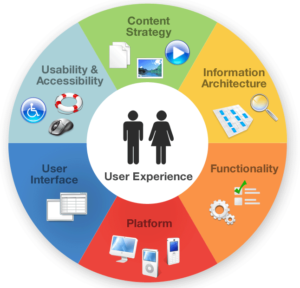 1. Users to View All of Your Locations
With a dedicated page of store location, you can enlist all of the physical locations of your business. The customers are grateful for finding all of your branches, warehouses, franchises, and sub-offices. They get to know that your business is a reliable one and that they can get quality products or services from multiple locations at their comfort.
2. Easy to Get Distance and Directions to Locations
Timely product delivery is one of the major dilemmas that are related to eCommerce stores. Informing your customers about your physical store locations could help them to pick the ordered product by themselves from the one that is near to them, instead of waiting for the product to be delivered by the store.
The store locator option assists customers to easily navigate to the location of the nearest store or warehouse. The integration of this functionality is really simple with the setup of an extension on a Magento based eCommerce store.
The online merchants should try making the use of store locator option to navigate customers to your stores by providing them with the directions that can be efficiently carried out through the integration of Google maps that are often available as pre-embedded in eCommerce modules and extensions.
The Magento 2 store locator extension is designed to save eCommerce customers from the trouble of waiting for ages to get products ordered through a particular online store.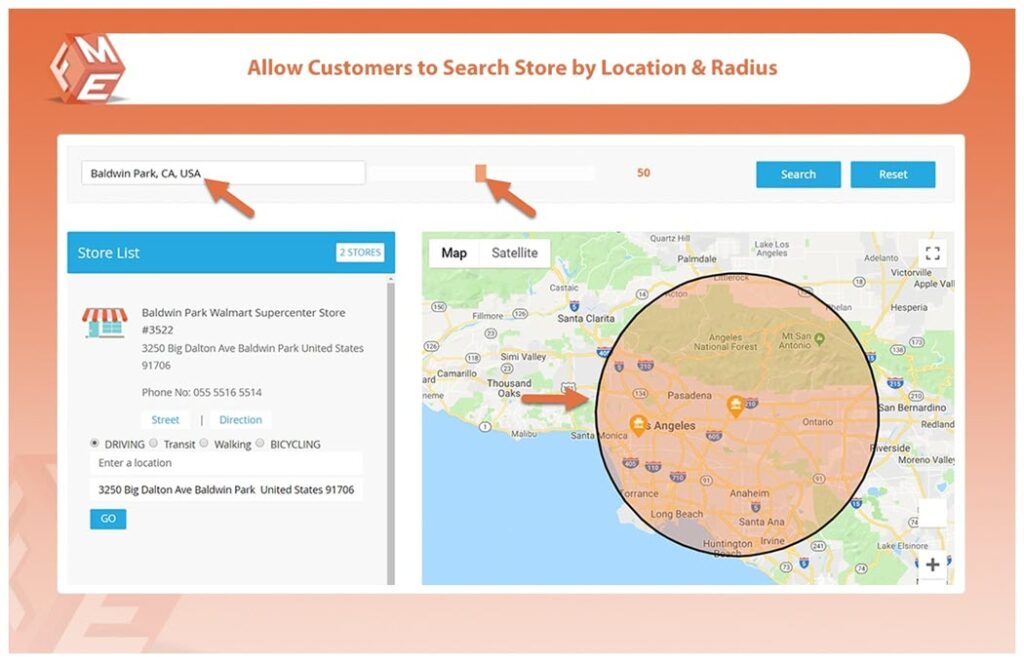 3. Providing Store Details on Its Dedicated Page
Save the trouble of finding the store locator option by dedicating a whole page where all your particular store information is present. Users can find about the opening and closing hours of the store and get aware of the stores off days.
The product available in the store can also be showcased by merchants to help assist customers in making purchase decisions. The separate page for the store locator helps users finding details about the nearest location.
Searching the particular address of the store is now more convenient with a built-in search bar where customers can easily find the desired store location on Google maps.
4. Users Can Find Stores by Tags
The extension allows creating store specific tags to facilitate customers in choosing the right store that suits their location and other aspects like the nature of the store, things that are being sold there, etc. A seamless eCommerce UX is vital for the ultimate growth and success of a business.
5. Allowing Store Pickups
This extension is designed to facilitate customers in every possible way. The Magento 2 in-store pickup extension allows users to choose the store pickup as a payment method for their ordered goods from the related online store.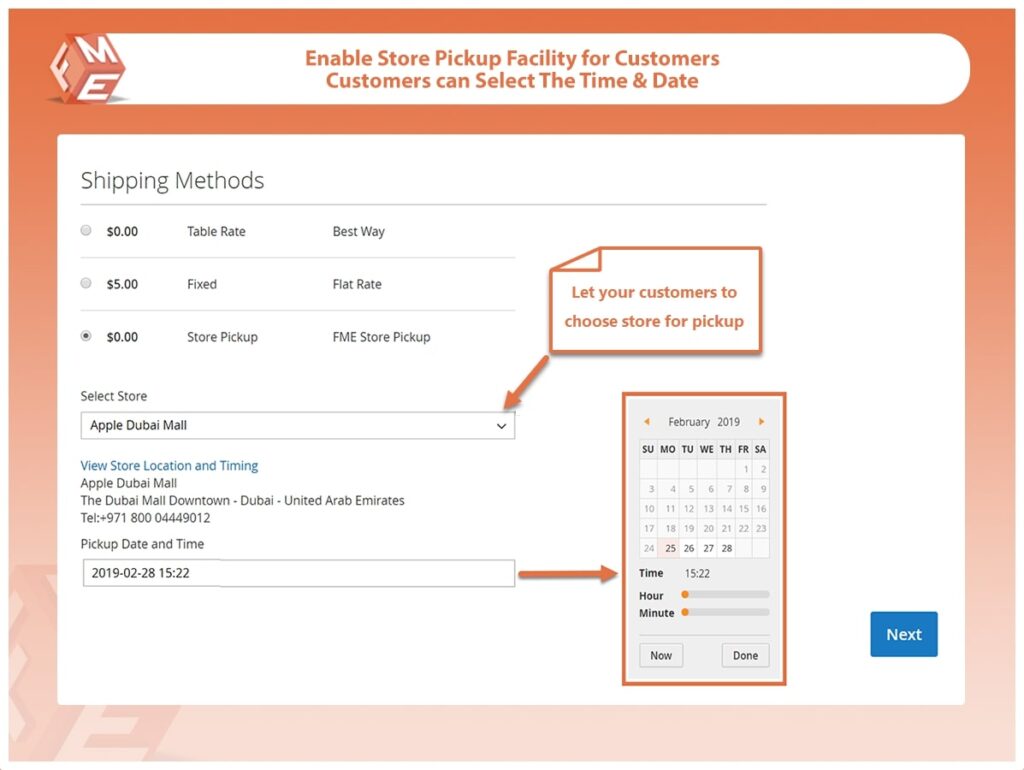 Many payment methods are not offering adequate services to the particular areas of the region. The merchants can allow picking the intended goods that are selected through online shopping manually. The customers can explore which store location is nearest to them and get aware of the opening and closing times of that specific store as well.
Final Words
You may be operating in multiple areas but failing to address it on your eCommerce website may result in losing a continuous sales drop. The loyal customers may not be able to order from your head office and they might think that you are not operating near their town. Let them easily locate all of your business branches or outlets, and make them visit, place orders, or ask for a pickup.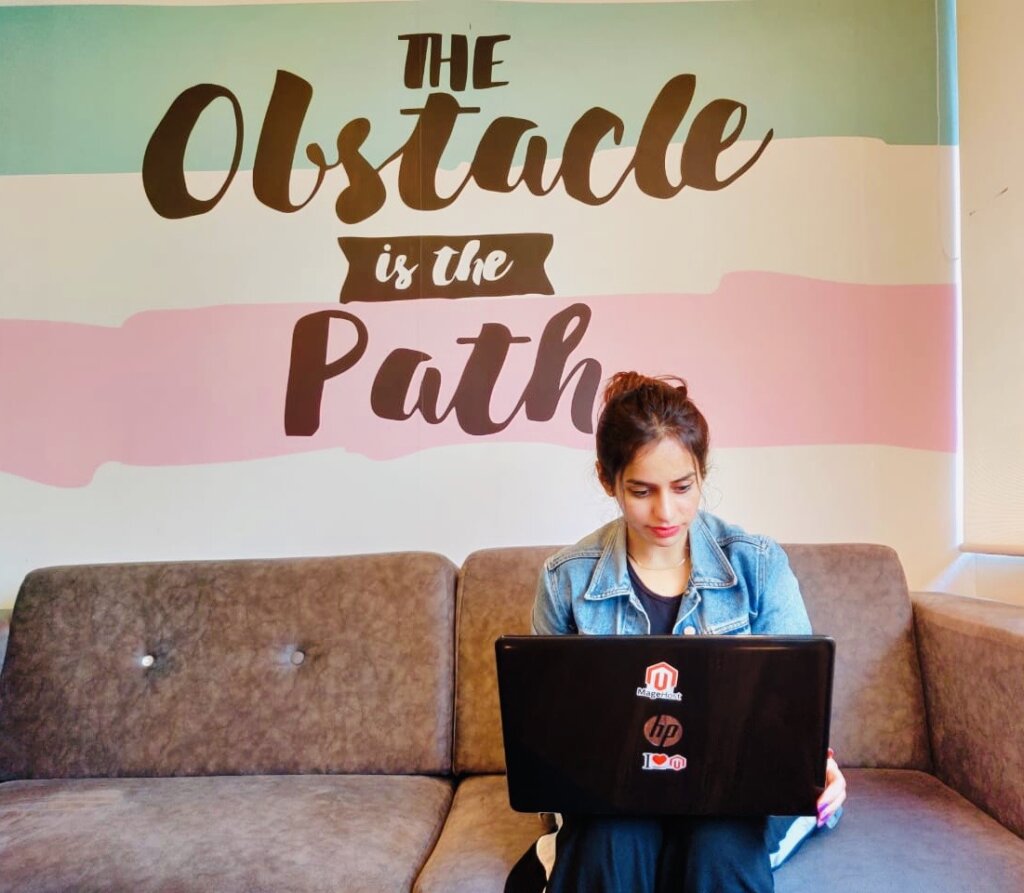 Sakshi takes care of everything related to Marketing at Webscoot.io. She has knowledge about Magento, WordPress, and Dogs.